BIOGRAPHY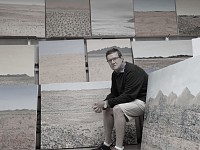 (b. 1950, Pietermaritzberg, South Africa)
Bruce Backhouse is an eminent landscape painter who resides in Johannesburg. Throughout his career, he has immersed himself in the vast arid interior of South Africa - the Great Karoo and the Kalahari. His paintings are the consequence of the artists intense visceral relationship with uninhabited aridity devoid of human manipulation. Backhouse took part in the Tswalu AiR - artists in residence program - in 2019 where he produced a number of paintings which are a result of that sojourn.
"The private challenge to myself was to compress 114 000 hectares of unspoiled semi-desert, into a number of canvases and works on paper, each one being approximately a metre square. Capturing the atmosphere of the diversity of Tswalu was, I think, my goal.
All artists thrive on big chunks of uninterrupted time. Tswalu provides this perfectly. Concentration is effortless. Not only is the geographical environment ideal, but the studio makes for a working space that very quickly, becomes your own. I have never in my career been as productive, without trying too hard. The time frame of three months suited me perfectly.
My methodology was to ride my bike or walk at first light, and at the end of each day I'd carry a sketchbook for referencing. I'd then spend the day painting from memory, in the wonderfully private Tswalu studio.
I have always been drawn to that point where the sky touches the land, ie the horizon, and how to interpret that onto paper or canvas. The Tswalu landscapes are highly complex, unique and varied. From clean skies that change daily, to rugged rolling mountains, to seemingly flat dunes that stretch on into a haze of white light.
Then there are the colours. The Tswalu sand/earth is impossible to capture. Depending on the light, one minute it's burnt sienna, then … there are the seasons. As elusive as I've found Tswalu, I have found it as stimulating. I was fortunate enough to get two bites of Tswalu: before and after the rains. Hopefully the sensual and atmospheric landscapes are captured on my large-scale canvasses and works on paper." – Bruce Backhouse on his experience at Tswalu (March 2020)
EDUCATION AND TRAINING
1970-1971
Studied fine art at Rhodes University for 2 years under Brian Bradshaw
Gained work experience as an Art Director and Creative Director at various advertising
agencies in South Africa for 25 years.
Illustrated ad campaigns, magazine covers and newspaper articles during this period.
1997-2004
MD Image Bank South Africa
2004
Became a full-time artist
SOLO AND GROUP EXHIBITIONS
2020
The Clarity of Wilderness – Tswalu, Everard Read Johannesburg & Tswalu
2018
Print-making with Mark Attwood, Artist's Press
2014
Karoo Preserved, solo exhibition, Everard Read Johannesburg
2013
100, Everard Read Group Centenary Exhibition, Johannesburg
Vignette, Carol Lee, Johannesburg
Summer Exhibition, Elizabeth Gordon Gallery, Durban
2012
Summer Exhibition, Elizabeth Gordon Gallery, Durban
2011
Durban – A City for all Seasons, Elizabeth Gordon Gallery, Durban
2010
A view from the South, Everard Read, Johannesburg
Solo exhibition, Obert Contemporary, Melrose Arch, Johannesburg
Summer Exhibition, Gallery 88, Paarl
2009
Solo exhibition Watercolour Monotypes & Etchings, David Krut Gallery
2008
Exhibition at Grande Provence Gallery, Franschoek
Exhibition at Upper Deck Gallery, Plettenberg Bay
2007
Launch Solo show of David Krut's new space, Johannesburg.
Exhibition at UNISA Gallery, "David Krut Prints".
2005
Exhibition at Everard Read Johannesburg
1982
Solo exhibition at Ronnie van der Walt Gallery, Melville.
1980
Solo exhibition at The Market Theatre Gallery.
ART FAIR'S
2015 – 2018
Turbine Art Fair, Carol Lee, Johannesburg
2015
Venice Biennale, Benetton Project Artist
2013
Sydney Contemporary, Everard Read Johannesburg
2008 – 2012
Johannesburg Art Fair, Everard Read, Johannesburg
RESIDENCY PROGRAMS
2019
Tswalu Oppenheimer Kalahari Reserve, three-month artist residency
COLLECTIONS AND COMMISSIONS
FNB
First Rand
Rand Merchant Bank
Wanderers Stadium
Standard Bank Collection
UNISA
The Weekender
Business Day
ArtBank
Renasa Insurance
Black & white internal mural, private residence, Llandudno, Cape Town
Private collections in South Africa, United Kingdom, Europe, Australia and USA