BIOGRAPHY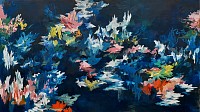 JUSTIN SOUTHEY
(b. 1985 South Africa)
Justin Southey graduated cum laude from Stellenbosch Academy of Graphic design and Photography (2007) with a BA in Applied Design. Justin Southey's practice explores notions of landscapes and fantastical worlds that serve as metaphors for more unquantifiable emotional and spiritual spaces.
Acting like ephemeral mirages, Southey's paintings explore and capture the intertwining and transcendent quality of the unseen. Capturing momentary feelings in a visual form, these investigations are both deeply personal and also often made in response to his immediate environment
With playful bold swathes of colour, texture and exuberant mark making, there is a push and pull the viewer experiences, directing the eye and stimulating the senses.
These 'landscapes' reveal melodious harmony and an overall narrative, and upon closer inspection investigating smaller worlds unfold, that invite the viewer to dream and imagine the atmosphere of physical space.
SELECTED EXHIBITIONS
2020 STILL, group show Everard Read, online exhibition
2019 Do not go gentle into that good night, solo show, Cavalli Estate, Stellenbosch, South Africa
2018 Sublimis, group show, M Contemporary, Sydney, Australia
In the Forests of the Night, group show, Everard Read, Johannesburg, South Africa
2017 Bathyal, solo show, Cubicle Series, Everard Read, Cape Town, South Africa
2016 Winter Collection, group show, Everard Read, Cape Town, South Africa
Kingdom, group show, Cavalli Estate, Stellenbosch, South Africa
Pastoral Abstraction, group show, Everard Read, Cape Town, South Africa
2013 Memphis/ African Totemism, group show, Design Indaba, Cape Town, South Africa (curated by Li Edelkoort)
Back in 5 mins, group show, Salon91, Cape Town, South Africa
2012 Wild Things, group show, Salon91, Cape Town, South Africa
2011 Something New, Side Street Studios, Cape Town, South Africa
Vast, group show, Searle Street Post, Cape Town, South Africa
BFF, group show, Woodstock Industrial, Cape Town, South Africa
2010 Ark, Group Show, Bamboo Centre, Johannesburg, South Africa (curated by Damon Gustang)
2009 No Strange Land, Group show, Salon91, Cape Town, South Africa