BIOGRAPHY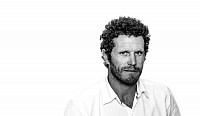 (b. 1974 Pretoria, South Africa)
BIOGRAPHY
South African artist Nic Bladen has become known for his extraordinary botanical sculptures, which demonstrate the technique he pioneered of casting entire plants in bronze and sterling silver. Born in 1974 in Pretoria, Bladen trained in the field of dental technology, a discipline that requires incredible precision and attention to detail. After working for eight years making gold and porcelain crowns in various dental laboratories in South Africa and the UK, Bladen developed an interest in sculpture and began working at the Bronze Age Foundry, learning large-scale bronze casting as well as all aspects of metalwork. Knowledge of the two seemingly different fields of dental technology and bronze casting precipitated Bladen's experimentations in 2001: casting flowers and leaves. In marrying the micro and macro disciplines, he pioneered a way of developing perfect castings of organic matter. His way of preserving/fossilizing plants and flowers involves a method known as 'lost wax casting' (or cire perdue) and it involves creating moulds from actual organic material, and then transforming these into once-off sculptures of entire plants.

Nic's first solo exhibition, Peninsula, held at Everard Read, Cape Town in 2013, focused on the richness of botanical diversity that surrounds the artist's Simon's Town studio, which is situated within the heart of the Cape Floral Kingdom, the smallest yet richest of the world's six floral kingdoms. For this show, concessions from landowners on the peninsula enabled Bladen to harvest such rarities as a Blue disa and the endemic Serruria villosa, amongst others.
In 2015, Nic worked as an Artist in Residence at Tswalu Kalahari, a private game reserve in South Africa's Northern Cape Province. The sculptures that he created during this time, a depiction of iconic, beautiful and strange Kalahari desert plants and trees, formed his second solo exhibition: Kalahari: A season at Tswalu, held at Everard Read, Johannesburg, in October 2015.
The title of Nic's third exhibition 'even in this unfavourable dry season' is attributed to William J. Burchell, an early Cape botanist, in about 1810. Referencing the floral abundance and diversity encountered even during severe drought, this body of work depicts the tenacity of Cape Flora to tolerate this dryness, and the splendour with which it does so.
Nic's fourth solo exhibition 'Botanical Studies in Bronze and Silver' was held at Everard Read London in May 2018 and introduced his unique cast botanicals to a while new audience. In January 2020, Nic's fifth solo exhibition 'Proteaceae', was held at Everard Read Cape Town and focused on this spectacular and diverse plant family.
Nic is currently preparing for his next solo exhibition, scheduled for February 2021, at Everard Read London.
Nic's unique works can be found in the Standard Bank Art Collection, Ellerman House Cape Town, BMW and Oppenheimer Collections, as well as in many other prestigious private collections, both locally and abroad.
SOLO EXHIBITIONS
2021 Upcoming solo, Everard Read, London, UK
2020 Arid, Everard Read, Johannesburg, South Africa
2020 Proteaceae, Everard Read, Cape Town, South Africa
2018 Botanical Studies in Bronze and Silver, Everard Read, London, UK
2017 Even at this unfavourable dry season, Everard Read, Johannesburg, South Africa
2016 New Works, Everard Read, Johannesburg, South Africa
2015 Kalahari: A season at Tswalu, Everard Read, Johannesburg, South Africa
2013 Peninsula, Everard Read, Cape Town, South Africa
SELECTED GROUP EXHIBITIONS
2019 Masterpiece Art Fair London, Everard Read booth, London, UK
2018 FNB Joburg Art Fair, Everard Read CIRCA booth, Johannesburg, South Africa
2017 Off the wall: A group sculpture exhibition, Everard Read Gallery, Johannesburg, South Africa
2014 Exact Imagination: 300 years of botanically inspired art in South Africa. Curated by Cyril Coetzee. The Standard Bank Gallery, Johannesburg, South Africa
Design Miami/Basel 2014, Southern Guild Collection, Basel, Switzerland
2012 Conversation Series, with Astrid Dahl, Jane Eppel and Katherine Glenday, Amaridian Gallery, New York, USA
SOFA (International Exposition of Sculpture Objects and Functional Art), with Amaridian Gallery, New York, USA
2011 Rare, joint show with Lisa Strachan at Everard Read, Cape Town, South Africa
Natural Selection, joint show with Jane Eppel at Rust en Vrede Gallery, Durbanville, South Africa
2010 SOFA (International Exposition of Sculpture Objects and Functional Art), Amaridian Gallery, Chicago, USA
2009 Realisme, Art Fair, Amsterdam, Netherlands
2008 Group Exhibition at KZNSA Gallery, Durban, South Africa
2007 Greenhouse, group exhibition at Bell-Roberts Gallery, Lourensford, South Africa