BIOGRAPHY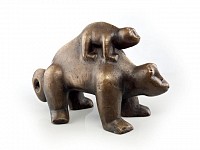 PERCY KONQOBE
(b. 1939 Nigel, South Africa)
BIOGRAPHY
Percy Ndithembile Konqobe was born in 1939 in Nigel, Gauteng. He left school after Grade Eight in order to find work. He was employed in several jobs and spent some years in prison until, around 1976, he felt called to become a sangoma or traditional healer. Since that time, he has worked as a sangoma in Soweto. This work has informed his art – both as a source of inspiration and as a system for generating symbolism and meaning.
Konqobe began creating works of art in the early 1970s, encouraged by the sculptor Sydney Khumalo. Konqobe has credited Khumalo with being his mentor and another source of inspiration for the style and subject matter of his art. Yet Konqobe is largely self-taught as an artist. He has worked predominantly in clay, a medium closely associated with Konqobe's belief in that earth is the ancestral resting place.
In the early 1980s, Konqobe visited Europe several times. He attended the Shaman Symposia, showing some of his pieces there. His clay sculptures received high praise, encouraging him to devote more time to his work. At around this time, he also started to cast his work in bronze. He has his first solo exhibition at the Goodman Gallery in Johannesburg in 1988.
Konqobe's sculptures usually incorporate abstracted human and animal figures. Most of his work has remained relatively small in scale, although some critics have noted their monumental qualities in spite of this. His figurative interpretations channel religious and cultural themes and Konqobe cites his dreams as major sources of guidance and inspiration. For instance, he had a recurring dream since the late 1980s that involved a lion hatching from an egg – which he believes foretold the unbanning of the African National Congress and the release of Nelson Mandela from prison. He created three sculptures based on these dreams, one of which was presented to Mandela in November 1990.
CV
EXHIBITIONS
2017 Off the wall: A Group Sculpture Show, Everard Read Gallery, Johannesburg
DATE OF BIRTH:
1939
GALLERIES
The Goodman Gallery
The Everard Read and CIRCA Johannesburg, Cape Town, London