PRESS RELEASE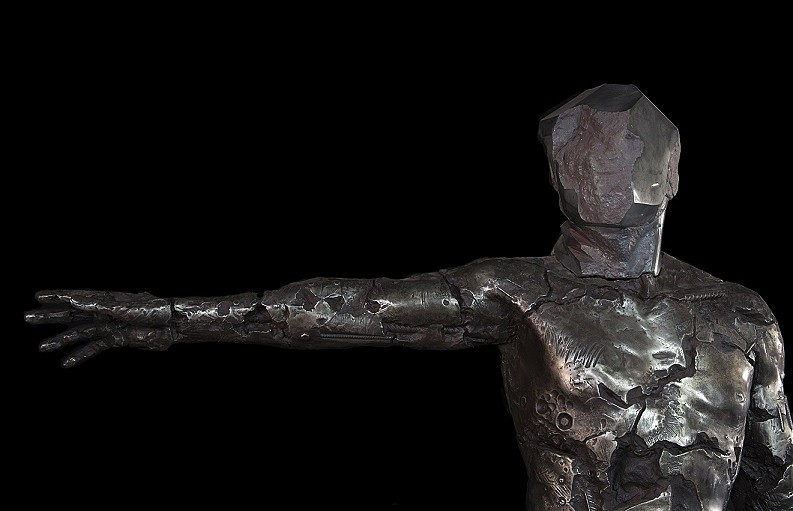 @ ERG - ANGUS TAYLOR: In The Middle Of It
Oct 4 – Nov 2, 2017
ANGUS TAYLOR
In The Middle Of It
EVERARD READ GALLERY
4 OCTOBER - 2 NOVEMBER 2017
Angus Taylor celebrates being in the middle of it with latest body of work
By Johan Myburg
From 4 October to 2 November, Everard Read Gallery in Johannesburg will present In The Middle Of It, a solo exhibition by Angus Taylor.
Taylor made this body of work for his first solo exhibition in the United Kingdom, exhibited earlier this year in the Everard Read Gallery in London. The monumental scale and imposing presence of the work made a favourable impression on the London public and they expressed a real interest in Taylor's use of materials (red jasper, hematite, bronze and stainless steel) as well as in the highly textured quality of the work.
Known for his powerful sculptures, Taylor works with an extraordinary range of materials from his immediate environment. "I always go back to stone; I cannot create anything better than stone," he admits.
Referring to the exhibition title he says: "I guess I am in the middle of it all … life expectancy, learning, work, first and third world, left and right brain, difficulty, zooming out and pulling back in." But more than a personal reflection, this "being in the middle of it all" refers to Taylor's place in the art world, in real terms as well as in a metaphorical sense. As a sculptor working with challenging materials, on a scale that many sculptors find intimidating, Taylor finds himself in the middle of difficulty, surrounded by the challenges of being a sculptor at the time and place he is living in.
Resistance as Nurture, a series of eight seminal sculptures, seems to comment on this awareness of wading through challenges. The conventional bronze figure pushes through a cloud of stone, accumulating ballast but at the same time buoyancy.
For the Johannesburg exhibition, Taylor takes on the challenge of carving a bust from finely textured Belfast gabbro, not only a "medium with a depth of meaning" (gabbro being older than two billion years) but also an extremely hard stone to carve.
In the Middle of It is proof of an artist being in the moment, beyond the initial anxiety of the halfway mark, and thoroughly immersed in his work: "I am fortunate to have the luxury of now seeking out my own difficulties, and it is a good place to be. I hope the work communicates this energy."
Short biography:
Angus Taylor was born in 1970 in Johannesburg. He uses traditional materials such as granite or bronze and deploys innovative techniques; imprinting texts into the bronze surfaces or eschewing the carvability of granite in favour of its block-like potential to construct works that allude to human form, without describing it. Taylor has featured his works in several exhibitions both locally and abroad, including Biography of Material, Everard Read Gallery, Cape Town, South Africa (2011); The Rainbow Nation, The Hague, Netherlands (2013) and later that same year After the Rainbow Nation, Nirox Sculpture Park, South Africa; From Explicit to Implicit, Everard Read Gallery, Johannesburg, South Africa (2014) and at the FNB Art Fair, Everard Read Gallery, Johannesburg, South Africa (2017).
For more information and/or images, please contact gallery@everard.co.za 011 788 4805 or
Grace O'Malley at grace@everard.co.za