PRESS RELEASE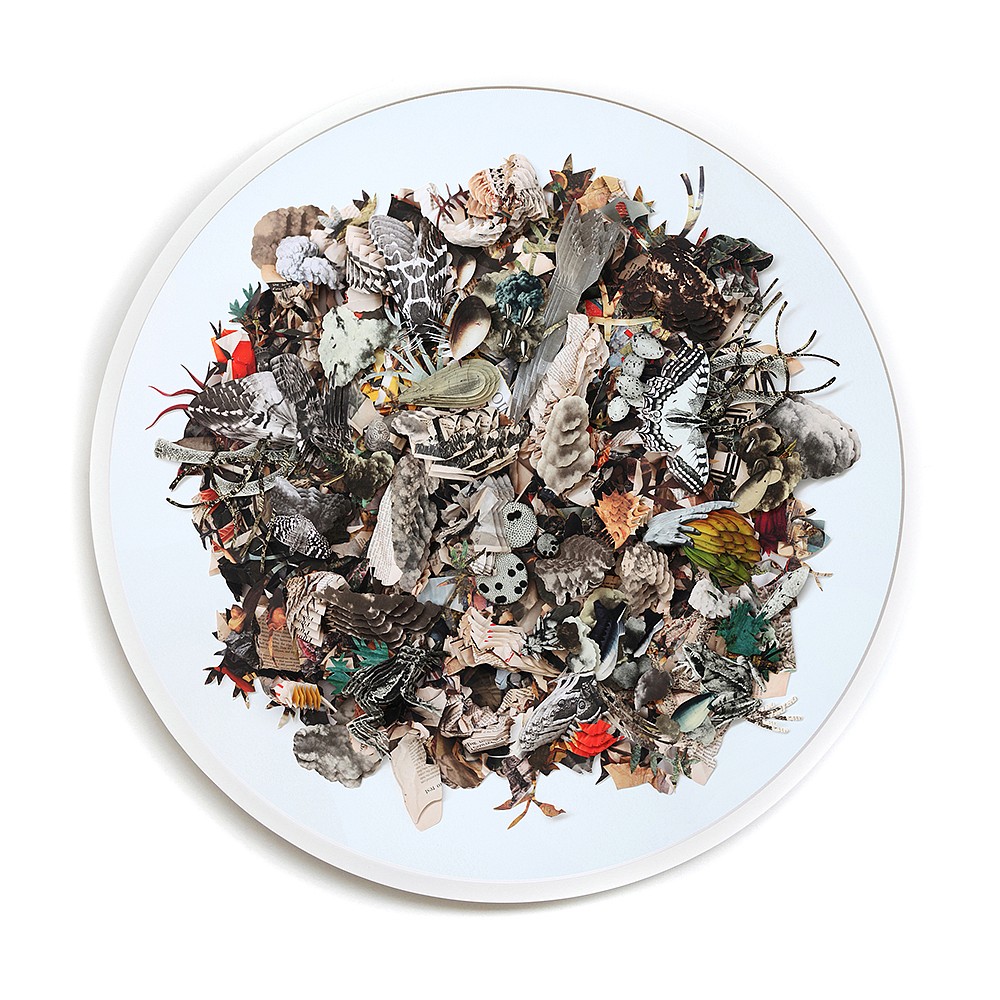 @ERG - BARBARA WILDENBOER: (EROS / THANATOS)
Nov 15, 2018 – Jan 10, 2019
EROS / THANATOS BARBARA WILDENBOER EVERARD READ GALLERY 15TH NOVEMBER 2018 – 21ST DECEMBER 2018


"Like the human psyche, modern society is dialectical – it has both a 'dark' and a 'light' side that continuously interpenetrate – and the very neutrality and ambivalence of reason (so central to Western development) facilitates the ability of society to manifest different shades of light and dark" ( from Dialectic of Enlightenment, written by Max Horkheimer and Theodor W. Adorno).

Sigmund Freud's seminal work Civilization and its Discontents (1930), introduced Eros and Thanatos, which he believed to be responsible for the disquiet, unhappiness, and anxiety humans suffer. These terms refer to the constant struggle between the life drive and the drive for destruction which he held to be at the centre of the development of civilization and the struggle for existence.

In Eros / Thanatos, Barbara Wildenboer draws from her own dreams, anxieties and personal narratives and intuitively connects inner and outer worlds, present, past and future. She uses the medium of collage to create a contemporary Vanitas within the context of the Anthropocene era. The body of collage works are filled with both personal and mythological references. There is a strong emphasis on narrative and how classical and contemporary stories frame our understanding of the relationship between the technologies which are meant to help us and the world that we inhabit.

From the viewpoint of evolutionary ecology, our universe is filled with creative and destructive energies. Nuclear energy, genetic engineering and developing nanotechnologies offer opportunities for growth and expansion but could equally result in cataclysmic outcomes.

Using media images and information selected from various sources, such as science and natural history books, old war magazines and journals of art and culture, Wildenboer constructs alternate realities that intimate an ostensibly apocalyptic future — that of the post-Anthropocene — but one that also suggests adaptation and the forming of new relationships, where all is not lost and humankind ekes out a tentative balance with both each other and with the natural world. The collages are musings on modern human life and the fragility of the symbiotic relationship between humankind and our ecology; a tenuous relationship that is jeopardised by consumerism, wastefulness and a sense of disconnection with each other and with nature. The works also make reference to the Chthulucene as an alternative to the Anthropocene, describing a world in which there is a flattening of any hierarchy between species (after Pimoa Cthulhu, a species of spider). Delicate webs of non-hierarchical interconnection between species provide a counterpoint to a world where we could be devoured by a gargantuan horror of our own making.

Because "it matters what stories make worlds, what worlds make stories" (from Staying with the Trouble- Making Kin in the Chthulucene, Donna Haraway (2016).


Biography


Barbara Wildenboer uses a combination of analogue and digital processes to create work that mostly consists of collage, photo and paper-construction and digitally animated photographic sculpture. Her main focus is on environmental aesthetics and ecopsychology.

Wildenboer has also been working on an ongoing project entitled Library of the Infinitesimally Small and Unimaginable Large since 2011. It was inspired by a short story by the Argentinian writer Jorge Luis Borges titled The Library of Babel and uses the library as a metaphor for the universe. Barbara Wildenboer lives and works in Cape Town, South Africa where she is represented by the Everard Read Gallery. She completed a BA(Ed) with majors in English literature, Psychology and Pedagogics at the University of Pretoria in 1996 followed by a Bachelor of Visual Arts from UNISA. In 2007 she obtained a Masters in Fine Art (with distinction) from the Michaelis School of Art at the University of Cape Town in South Africa. The title of her Master's thesis was Present Absence / Absent Presence and the research was concerned with aspects of melancholy, loss and longing as is embodied by the photographic medium. From 2009-2016 Wildenboer worked as the head of the Photography Department at the Cityvarsity College of Creative Arts. In 2011 she was nominated and subsequently selected as one of the top 20 finalists for the Sovereign African Arts Award for which she received the Public Choice Prize. She has been awarded several international residencies such as the Unesco-Aschberg residency (Jordan, 2006), the Al Mahatta residency (Palestine, 2009) and the Red De Residencias Artisticas Local (Colombia, 2011), the Rimbun Dahan artist residency (Malaysia, 2013) and L'Atelier Sur Seine (France, 2017) and the Hannacc arts residency (Spain, 2018).

Wildenboer will have her 12th solo exhibition at the Everard Read Gallery in London in March 2019.

CV
Education
2007 Master of Fine Art (with distinction), Michaelis School of Fine Art, University of Cape Town, South Africa
2003 Bachelor of Visual Arts, UNISA, South Africa
1996 BA (Ed) with majors in English literature, Psychology and Pedagogics, University of Pretoria

Solo exhibitions
2017 The Invisible Gardener, Everard Read/CIRCA, Cape Town
2016 Mythematics, MContemporary Gallery, Sydney
2015 Something Rather Than Nothing, The Cat Street Gallery, Hong Kong
2014 The Lotus Eaters, The Reservoir Gallery, Oliewenhuis Museum, Bloemfontein William Humphreys Art Gallery, Kimberley, North West University Gallery, Potchefstroom, South Africa
2013 Disjecta Membra, Amelia Johnson Contemporary, Hong Kong
2012 Canaries in the coalmine, ErdmannContemporary, Cape Town and Aardklop, Potchefstroom
2011 Library of the infinitesimally small and unimaginably large, ErdmannContemporary, Cape Town
2008 Present Absence/Absent Presence, ErdmannContemporary, Cape Town
2008 Vanitas, AVA, Cape Town

2006 Everyday Alchemy, Darat al Funun, Amman, Jordan
2004 Rites of Passage, AVA, Cape Town

Selected group exhibitions
2017 Cut Up /Cut Out, travelling Museum Exhibition, Bellevue Arts Museum, WA (June 30 – Oct. 20, 2017) Huntsville Museum of Art, AL (Nov. 19 – Feb. 11, 2018), Pensacola Museum of Art, FL (March 2 – June 17, 2018) Ellen Noël Art Museum, Odessa, TX (July 19 – Oct. 14, 2018) Foosaner Art Museum, Melbourne, FL (Nov. 10 – Feb. 3, 2019) Woodson Art Museum, Wausau, WI (Mar. 2 – May 26, 2019).
2017 Booknesses: South African Artists' Books – FADA Gallery, As part of the BOOKNESSESS COLLOQUIEM held at the University of Johannesburg.
2017 By the Book, Kaller Fine Arts, Washington DC
2017 Reality Check, Everard Read Gallery, Cape Town
2016 This is Not a Book, The San Jose Institute of Contemporary Art, California, USA
2016 Surface and Subtext, Everard Read Gallery, Cape Town
2016 nano- Barnard Gallery, Cape Town
2016/2015 Map of the New Art – Imago Mundi – Luciano Benetton Collection, Isola di San Giorgio Maggiore, Venezia, Italy and New York
2016 The Art of the Book, The Seager Gray Gallery, San Francisco, USA
2016 Lush, SMAC Gallery, Stellenbosch
2015 Ten years of Artists Books, A collection of artists' books curated for the Brooklyn Public Library, New York.
2015 Picture & Paper, Barnard Gallery, Cape Town
2015 The Spiritual in the Material, Lizamore and Associates Gallery, Johannesburg
2015 The Art of the Book, The Seager Gray Gallery, San Francisco, USA
2015 The Artist as Author, Klein Karoo National Arts Festival, Oudshoorn, Karoo

2015 Empire, Everard Read, Cape Town
2014 Butterflies in my Stomach, XVA Gallery, Al Fahidi, DUBAI
2014 artMRKT international art fair in San Francisco, United States
2014 The Art of the Book, The Seager Gray Gallery, San Francisco, USA
2013 Crossing the Divide Erdmann Contemporary, Cape Town
2013 Wonder Works, The Space, HONG KONG
2013 Cape Town International Art Fair, Cape Town
2013 Joburg Art Fair Johannesburg 2013
2012 Conversations, Sydney, AUSTRALIA
2012 Clover Aardklop Arts Festival, Potcheftstroom
2010 Es(Cape), Pretoria Kunsvereniging, Pretoria
2012 Art International Zurich, Switzerland
2011 Implemented Environments, Brundyn & Gonsalves, Cape Town
2010 Return to the Land, Klein Karoo Kunstefees, Oudshoorn
2010 Matters Conceptually / Conceptual Matters (part I and II), ErdmannContemporary, Cape Town
2010 Reading between the lines, US Gallery, Stellenbosch
2007 Greenhouse, Bell-Roberts Gallery, Lourensford estate, Stellenbosch
2009 3d Riwaq Biennale, Birzeit, Palestine
2008-2009 Construct: Beyond the Documentary Photograph (Travelling exhibition) Unisa Gallery, Pretoria, KZN Gallery, Durban, Nelson Mandela Metropolitan Gallery, Port Elizabeth, Grahamstown Art Festival (Main show), Grahamstown, Goethe Institute, Johannesburg
2008 Print 08: Myth, Memory and the Archive, Bell-Roberts Gallery, Woodstock
2007 Come, Michaelis Gallery, Cape Town, KZNSA, Durban
2007 Critic and Committee's Choice, AVA, Cape Town Residencies / Awards

2016 L'Atelier Sur Seine residency, (Fontainebleau, Paris)
2013 Rimbun Dahan residency, Penang, Malaysia
2011 Red De Residencias Artísticas Local at the Universidad Nacional de Colombia, (Bogotá, Colombia)
2011 Public Vote Prize, Sovereign African Arts Award (www.sovereignartfoundation.com/art-prizes/african/)
2009 Al Mahatta residency (Palestine)
2006 Unesco-Aschberg residency (Jordan)
2006 MacIver Scholarship
2005/6 KW Johnstone Scholarship
2005/6 Jules Kramer Award
2005/6 Harry Crossley Scholarship