PRESS RELEASE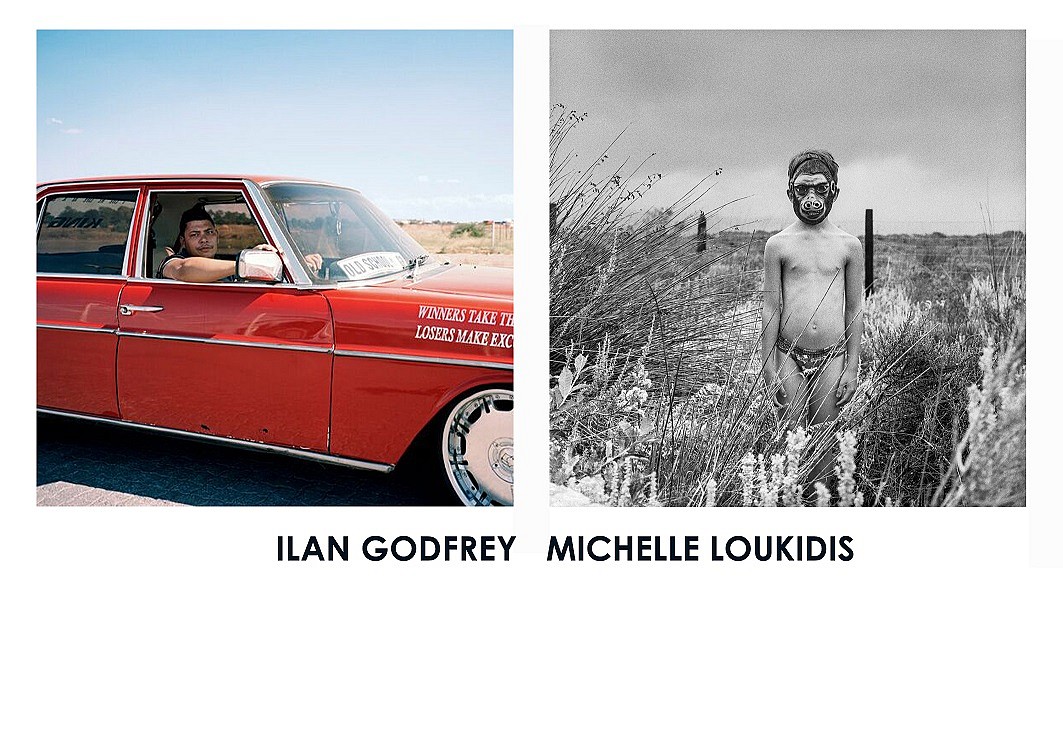 @ERG - MESH PHOTOGRAPHY SERIES: MICHELLE LOUKIDIS & ILAN GODFREY
Apr 7 – May 6, 2018
MESH PHOTOGRAPHY SERIES
MICHELLE LOUKIDIS | ILAN GODFREY
EVERARD READ GALLERY
7 April – 6 May 2018
Curated by Musa N. Nxumalo

The Everard Read Gallery in Johannesburg is proud to present the Mesh Photography Series, an annual photography programme aimed at acquainting critical photography practice with audiences who have yet to engage with the genre.
The programme assembles ideas that are written and explored by the Photographers independently; in other words the curator selects bodies of work, which employ an analytical approach in writing about ideas that directly and indirectly influence us on a daily basis, already established by the artists. These artists' work becomes a gateway for us to achieve a fresh and broader understanding of our immediate and global community in a manner that we would otherwise not have access to.
ABOUT HERE…
BY – Michelle Loukidis

These works explore the delicate relationship between the viewer and the viewed. In most images, it is a very close, complicated and layered bond between a mother and her three boys. There are elements of this work that could be considered a self-portrait, without the photographer's actual presence. Subtle details of the children's personalities are at once revealed and concealed. The children through play explore the world around them, and shift between reality and fantasy. Mundane everyday activities, like cutting hair and being sick, are placed next to more playful situations. What happens in the actual frame, is continued and extended into the real world and vice versa.
MISCELLANEOUS WORKS
BY – Ilan Godfrey

Since 2011, Ilan Godfrey has been working on an extensive multi layered project related to the mining industry in South Africa with his initial body of work culminating in a book titled 'Legacy of the Mine'. The project encompasses various themes by focusing on key minerals that have played a pivotal role in the shaping of the South African landscape. Recently a second chapter has been included to the overall nexus of the work and engages with the communities that have grown and straddle the Northern, Eastern and Western Limb of 'The Platinum Belt'.
Ilan channel's his conception of 'the mine' into visual representations that give agency to the human, socio economic, environmental and health impacts of mining. Acting as a visual archive, a record of current mining practices his photographs in and around this extractive sector have become visual signifiers for change thus challenging the ideological portrayal of 'the mine' as a symbol of progress, prosperity and wealth.

BIOGRAPHIES

Michelle Loukidis (Artist)

Michelle Loukidis received her photographic training at TUT in Pretoria (Tshwane). She has always had a keen interest in photographic development, and as a result has throughout most of her career worked as a trainer and mentor, for young photographers in Africa. She has personally exhibited in solo and group exhibitions. Michelle prefers working in film using both medium and large format cameras, where she feels a certain amount of the magic of photography is still retained. She currently works and lives in Johannesburg.
Ilan Godfrey (Artist)
Ilan Godfrey was born in Johannesburg, South Africa in 1980. At nineteen he moved to London, England where he gained a BA (Hons) degree in Photography from the University of Westminster and was awarded the David Faddy Scholarship to continue his studies, receiving an MA degree in Photojournalism. He spent eleven years working between Johannesburg and London before returning to South Africa in 2011.
Ilan's current and ongoing personal photographic practice focuses on extensive issues that reflect South Africa's constantly changing landscape, documenting the country with an in-depth, intimate and personal conscience. By conveying through long-term projects a process of exploratory narration with photography, he reveals varied aspects of societal change across the country.

He collaborates with institutions and organisations worldwide and has been recognised by various photography awards and grants, including OSF-SA (Grantee 2016), POPCAP '14 Prize Africa (winner 2014), the Leica Oskar Barnack Award (finalist, 2014), the OPEN Photo Award (winner, 2012), and the Magenta Flash Forward Award (winner 2007 and 2008) among others.

He has participated in numerous group and solo exhibitions and has exhibited in galleries and museums worldwide, including the National Portrait Gallery in London, Iziko South African National Gallery in Cape Town, Wits Art Museum in Johannesburg and Musée du quai Branly in Paris. His photographs have been featured in a broad range of leading international publications.

Musa N. Nxumalo (Curator)
Musa N. Nxumalo is a contemporary photographer whose work explores youth culture, identity and the journey to self-discovery, born in 1986 in Soweto, Johannesburg, where he now lives and works. He completed the Foundation and Intermediate Courses at Market Photo Workshop between 2006 and 2008 and has since participated in several workshops and master classes.
Since 2009, Nxumalo has had six solo exhibitions. His work has also been included in a number of group exhibitions both locally and internationally. These include For Those Who Live In It in the Netherlands in 2010; Space Between Us in Germany in 2013; My Joburg at Maison Rouge Gallery in Paris in 2013 and Peregrinate, which has been shown across the African continent in 2015 and 2016, including in Lagos, Abidjan, Bamako and Nairobi. He is the recipient of several awards – the Edward Ruiz Mentorship in 2008, 2nd Prize for the MTN CITY Festival in 2009 and 1st prize in Visual Art for the Impact Awards in 2010. Nxumalo has recently joined the Everard Read team in Johannesburg as a gallery Co-ordinator; working closely with the Director and the Chief Curator to help manage curatorial, logistical and general maintenance of the gallery.
Within this portfolio, Nxumalo works as a photography expert for the gallery, working with the team to incorporate photography on the gallery's annual exhibitions programme.