BIOGRAPHY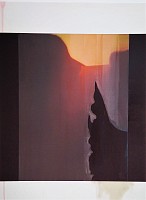 ALEXANDRA ROSS
BIOGRAPHY
Alexandra Ross is a visual artist based in Johannesburg (South Africa). Her first solo exhibition, Viewpoint (2007) received the Brait-Everard Read Art Award. The installation of large-scale photographs was both a critique of gallery/art power relations as well as an investigation of the relationships of space and time, illusion and reality. Though Ross works in a variety of other media - painting, drawing, drawing on plexiglass/Perspex, and printmaking - her conceptual and philosophical concerns remain consistent, and all her work relates in one way or another to photography. The window is also a recurring theme, appearing as both leitmotif and as metaphor. Broadly, her work explores the relationship between reality and illusion and reflects on the complexities of representation. It also seeks to evoke the ephemeral, elusive and transient nature of reality.
Since 2007 she has had a two-person exhibition, In Camera (2008), a second solo, In Search of Lost Time (2009), and completed her Masters degree in Fine Art at the University of the Witwatersrand (2008). Her work has been exhibited on a number of group shows and at the Joburg Art Fair for the last three years.
She has recently completed a residency at kunst:raum, Sylt Quelle (Germany) and is currently living and working in Berlin, preparing a new body of work for a third solo show in 2011.
CV
2010
Residency kunst:raum (Sylt, Germany)
View From The South (group) Everard Read (Johannesburg, SA)
Joburg Art Fair David Krut and Everard Read stands
2009
In Search Of Lost Time (solo) David Krut (Johannesburg, SA)
The Great South African Nude (group) Everard Read (Johannesburg, SA)
Supermarket (group) Muti Gallery (Cape Town, SA)
Joburg Art Fair David Krut and Everard Read stands
2008
In Camera (two-person) Resolution Gallery (Johannesburg, SA) MAFA University of the Witwatersrand (Johannesburg, SA) Residency Nirox Foundation (SA) Joburg Art Fair Everard Read stand
2007
Viewpoint (solo) Everard Read (Johannesburg, SA) Brait-Everard Read Art Award 2007
2005
5 Women (group) Gesseau Gallery (Johannesburg, SA)
2004
Young Visions (group) Alliance Française Gallery (Johannesburg, SA)
2002
Returns to SA from London and begins painting
1991 - 2000
Works as freelance graphic designer in Johannesburg and London
1987 - 1990
BAFA University of the Witwatersrand (Johannesburg, SA)
1972 - 1986
Educated and raised in South Africa 1968 Born in London (UK)