BIOGRAPHY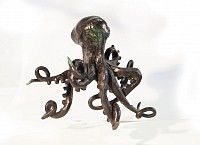 DAVID BROWN
(b. 1951, Johannesburg , South Africa)
BIOGRAPHY
David was born in Johannesburg and grew up a wild child living in the semi-rural edge of Mondeor. His mother was a nurse, but had had polio and so was never allowed to practice; his father was a playwright and journalist, and David was allowed to run free, more or less, playing in the hills, swimming in the river, collecting mushrooms and wild fruit. He did not take school very seriously and thought of his life as happy, but for the inhumanity that he encountered because of race laws and police brutality. Several of these encounters he remembered with painful clarity, and they are reflected in the work he made. He came to Cape Town with his parents when he was 16 and spent a miserable year at Westerford High School, feeling straightjacketed in its uniform and by its commitment, in those days, to national Christian education.
After school he did his nine months' obligatory military service, which he considered not only an enormous waste of time but a travesty, and he retained a revulsion for anything to do with the army or with institutions that regimented behaviour and enforced the horrors of immoral regimes. When it came to thinking about his future, he was not sure, but decided to study graphic design at Michaelis, turning to photography in his fourth year. As his first significant creative project he produced a body of photographs taken in the street where he lived. This work was re-presented decades later at the District 6 Museum.
A couple of years after he left Michaelis, David found a studio in an old building on the edge of the business district of Cape Town, bordering the beleaguered District 6, which at the time was also subject to forced removals, the demolition of homes, the breakdown of community, as families packed up to leave for an uncertain future on the Cape Flats. This studio and its environment was to play a significant role in the development of his work. David's first solo exhibition, 'Dogs of War '(1980), was held in the Goodman Gallery in Johannesburg. These were large, brooding sculptures carved from jarrah and incorporating metal jackets or armour. His first icon was the dog – an animal he was to use as both a symbol of powerlessness and of aggression. Further developed in his series ' One Man and his Dog' (1983), these contrasting attributes – the sense of a loving domestic animal gone feral – lent to the works a quality of menace, as if all that was familiar and dependable was really founded on a deep, dark pool of irrational mistrust.
In 1985, David exhibited a collection of bronzes entitled 'Procession'at the Goodman Gallery in Johannesburg and later at the Basel Art Fair in Switzerland. These works appeared as 23 separate pieces linked together as a cavalcade of vehicles, transporting structures and figures with flags and megaphones (some victims, some victors) to an uncertain destination. Together, the procession expressed a medieval quality, at once a parade of the condemned and a triumphant return from a distant battle. It was at this time that David began work on a commission for the Johannesburg Art Gallery which resulted in the monumental bronze and metal sculpture Tight roping. This work was completed in 1985 and drew on the themes of his previous work. Placed as it was outside the gallery in Joubert Park, the sculpture found a home from home and was to become the favourite backdrop for photographers in the area. In 1996, one of the figures was stolen and for a decade or more the sculpture, as such, no longer existed. It was later found in a scrap yard in Cape Town by artist Willie Bester and was eventually returned to Johannesburg. The group of works that followed Procession was titled Voyages (1989). These works took the ship – the Ship of Fools, the slave vessel, the ships of the voyages of discovery – as their central theme. On these vessels, groups of figures work hard; rowing, pulling, hoisting, bellowing, going nowhere. These are ships unworthy to sail: rusted, broken, their sides split open. They are full of survivors driven crazy by violence, repression, hopelessness and processes of dehumanisation. For the next few years, David was to work on his biggest and most ambitious sculptures yet. These included the exhibition at the Goodman Gallery entitled 'Dogwatch' (1993) and 'the Dialogue at the Dogwatch' (1995), a commission for a house in the English countryside.
The latter was commissioned by Charles Diamond, one of several collectors David was lucky to encounter, and whose own eccentricities seemed to coincide with his own. David worked on the piece for two years, and in the end it covered an area of 30 m by 11 m, with a height of 6.5 m. Today it is part of the collection at the University of Cape Town outside the Middle Campus administration building, donated by its previous owner. All these works focused on folly, brutality and paradox, with their historical roots in the travelling carnival shows or mobile arenas where costumed figures enacted ritualised inversions of hierarchies through ridicule and the absurd. The final large-scale body of work David made was titled Portraits of Sinners. They were shown at SMAC in Woodstock.
David's memories of the police abuses he saw as a young boy growing up in the blue-collar belt of Mondeor, the forced removals of Second Avenue and District 6, riot police and bloated government officials all haunted his work, as did the grim realities that were not just local but belonged to societies all over the world. In spite of this, he also had a great sense of humour and a sense of the absurd. In all his work he pokes fun.
Exhibitions & CV
Exhibitions
1974 Levison Fine Art, Cape Town – graphics and mixed-media works.
1975 Goodman-Wolman Gallery, Cape Town – graphics and mixed-media works.
1978 Goodman Gallery, Johannesburg, wood sculptures.
1980 Goodman Gallery, Johannesburg, wood and steel sculptures.
1983 One man and his dog, Goodman Gallery, Johannesburg, wood and steel sculptures.
1985 Procession, Goodman Gallery, Johannesburg, bronze procession and large wood and steel sculptures.
Procession, World Art Fair, Basel, Switzerland.
1988 Voyages, Goodman Gallery, Johannesburg multi-media, steel and bronze sculptures.
1991 Dog Watch, Goodman Gallery, Johannesburg multi-media, steel and bronze sculptures.
1997 Thomas and the Boneyard, multi-media sculpture at Stellenbosch: Sasol Art Museum
2001 On the Telephone, multi-media sculpture and sculptural paintings. Everard Read Gallery, Cape Town.
2005 (with Cecil Skotnes) Smoking room stories and other work. Irma Stern Museum, Cape Town.
2009 Two men and their Dog. Joao Ferreira Gallery, Cape Town.
Selected Group Exhibitions
1975 Response to the fact of detention, Space Theatre complex, Cape Town
1979 Cape Town Bienniale, South African National Gallery.
– Crossroads, Baxter Theatre Complex, Cape Town.
– Cape artists, Bloemfontein Museum, Bloemfontein.
1981 Invited but declined to exhibit at International Biennial, Valparaiso.
1982 Sculpture in the making, South African National Gallery, Cape Town
– Invited but declined to exhibit in the Republic Festival Exhibition adjudicated by Eward Lucie-Smith.
1984 Fantasy and Obsession, South African Association of Arts, Cape Town.
1985 Art from the Cape, Rand Afrikaans University, Johannesburg
1986 AA Mutual Life VITA Art Now exhibition, Johannesburg Art Gallery, Johannesburg.
– Tributaries touring exhibition of Germany, curated by Ricky Burnett.
1988 Cape Town Trienniale, South African National Gallery.
1989 AA Mutual Life VITA Art Now exhibition, Johannesburg Art Gallery, Johannesburg
1990 AA Mutual Life VITA Art Now exhibition, Johannesburg Art Gallery, Johannesburg
1992 AA Mutual Life VITA Art Now exhibition, Johannesburg Art Gallery, Johannesburg
1993 South African art at Museum of Modern Art, Oxford, England
1996 Sculptural work at Gelerie Anke, Dusseldorf, Germany.
2000 Collaborations, Curated Russell Jones. Brendan Bell, Gallery Cape Town.
2002 Spier outdoor Sculpture Biennial, Spier Estate, Stellenbosch.
2009 00 years of South African Art, South African National Gallery.
2010 20 years of South African Sculpture, Nirox Foundation and Stellenbosch.
2012 Rainbow Nation, South African Sculpture, Den Haag Museum, Holland.
Commissions and installations
1984 Large wood and steel composite sculpture for the Revenue Building, Cape Town
1986 Tightroping, for the Johannesburg Art Gallery Centenary.
1987 Bronze Dog for the Milcetic collection, New York.
1992 Large scale composite sculpture for Hennerton House, England.
1996 Life size bronze figure composition – private collection, Cape Town
1996-2012 Numerous works for various private individuals.