BIOGRAPHY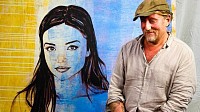 DAVID BROMLEY
(b. 1960 Sheffield, England)
Lives and works in Adelaide.
David Bromley is amongst the most successful and innovative painters currently working in Australia. In his art he has managed to combine a distinctive Pop sensibility - a love of found images, photographic sources and mass media references - with an inventive relish for the effects of paint.
His work divides into two distinct but related strands: images of childhood (adapted from the world of 1950s' book illustrations) and images of the female nude.
Displaying an extraordinary artistic energy he has experimented with a wide variety of different media - printmaking, ceramic, sculpture and, recently, film. He is currently working on designs for a collection of utility furniture.
Though born in Sheffield, England, in 1960, Bromley moved to Australia at the age of four and has lived there ever since. As an artist he is self-taught. He has had over thirty solo exhibitions across Australia, Europe, the USA and Asia. His work is held in corporate and private collections in both hemispheres. He is listed as one of the '50 Most Collectible Artists in Australia' by Australian Art Collector Magazine.
SELECTED SOLO EXHIBITIONS
2006
Jan Murphy Gallery, Brisbane
Hill - Smith Fine Art Gallery, Adelaide
Tim Olsen Gallery, Sydney
2005
Hill-Smith Fine Art Gallery, Adelaide
Scott Livesey Art Dealer, Melbourne
Obsession Gallery, Japan
Tim Olsen Gallery, Sydney
Rice Polak Gallery, Massachusetts, USA
2004
Everard Read Gallery, Johannesburg, SouthAfrica
Obsession Gallery, Tokyo, Japan
Scott Livesey Art Dealer, Melbourne
Kagoshima, Japan
Jan Murphy Gallery, Brisbane
Rebecca Hossack Art Gallery, London
Tim Olsen Gallery, Sydney
2003
Obsession Gallery, Tokyo & Kyoto, Japan
Scott Livesey Art Dealer, Melbourne
Tim Olsen Gallery, Sydney
Perth Galleries, Perth
Jan Murphy Gallery, Brisbane
Susanne Zander Galerie, Koln Germany
Hill-Smith Fine Art, Adelaide
2002
Scott Livesey Art Dealer, Melbourne
Chapman Gallery, Canberra
Rebecca Hossack Art Gallery, London
2001
Scott Livesey Art Dealer, Melbourne
Hill-Smith Fine Art, Adelaide
Jan Murphy Gallery, Brisbane
Tim Olsen Gallery, Sydney
2000
Scott Livesey Art Dealer, Melbourne
Atelier de Cyrille Varet - Viaduc des Arts,Paris
Perth Galleries, Perth
1999
Hill-Smith Fine Art, Adelaide
Chapman Gallery, Canberra
Coventry Gallery, Sydney
Jan Murphy Gallery, Brisbane
1998
Perth Galleries, Perth
Kozminski Galleries, Melbourne
Jan Murphy Gallery, Brisbane
1997
Jan Murphy Gallery, Brisbane
Coventry Gallery, Sydney
1996
Jan Murphy Gallery, Brisbane
Grand Orbit Artspace, Brisbane
Dick Bett Gallery, Hobart
Greenaway Art Gallery, Adelaide
1995
Greenaway Art Gallery, Adelaide
Coventry Gallery, Sydney
Jan Murphy Gallery, Brisbane
1994
Dick Bett Gallery, Hobart
1993
Greenaway Art Gallery, Adelaide
Coventry Gallery, Sydney
Dick Bett Gallery, Hobart
Victor Mace Gallery, Brisbane
1992
Greenaway Art Gallery, Adelaide
Coventry Gallery, Sydney
1991
Coventry Gallery, Sydney
1990
BMG Gallery, Adelaide
1989
Coventry Gallery, Sydney
SELECTED GROUP EXHIBITIONS
2020
The Portrait Show, Everard Read Gallery, Johannesburg
2006
The Grand Opening, Scott Livesey Gallery,Melbourne
Art Miami, USA
Cat Street Gallery, Hong Kong
Zaishu Show, Jan Murphy Gallery, Brisbane
Melbourne Art Fair, Melbourne
2005
Art Palm Beach, USA
Art London, UK
Jan Murphy Gallery, Brisbane
Rice Polak Gallery, Massachusetts, USA
Salon de Refuse (ARCHIBALD),SH Erwin Gallery,Sydney
Art Glasgow, Scotland
2004
Toronto International Art Fair, Canada
Art Koln, Germany
artLONDON Art Fair, London
Art Palm Beach, USA
Finalist in the Archibald Prize (McLean Edwards),AGNSW
Glasgow Art Fair, Scotland
2003
ArtMiami, USA
Art Palm Beach, USA
Art2003, London
Alchemy, Jan Murphy Gallery, Brisbane
Alchemy, Tim Olsen Gallery, Sydney
2002
The Outsider Art Fair, Marion Harris, New York
4 x 4, Jan Murphy Gallery, Brisbane
Australian Visions, Bunkamura Gallery, Tokyo
artLONDON Art Fair, London
Finalist in the Archibald Prize (CharlesBlackman), AGNSW
Winter Artists x 12, Perth Galleries, Perth,Western Australia
Bristol Art Fair, UK
2001
Modern Living Art, Mitsukoshi, Tokyo
Finalist in the Archibald Prize (Long TomTjapanangka), AGNSW
Artists Supporting Animal Preservation, Sydney
artLONDON Art Fair, London
20/21 Century British Art Fair
2000
Three Men in a Boat, Rebecca Hossack Gallery,London
Finalist in the Archibald Sporting PortraitPrize, AGNSW
Affair to Remember, Australian High Commission,Singapore
Ten Australian Artists, Nicola Townsend ArtDealer, Tokyo
Finalist in the Doug Moran Portrait Prize
artLONDON Art Fair, London
1999
Finalist in the Archibald Prize, AGNSW
Salon de Refuse (ARCHIBALD), SH Erwin Gallery,Sydney
1997
Salon de Refuse (ARCHIBALD),SH Erwin Gallery,Sydney
1996
Salon de Refuse (WYNNE),SH Erwin Gallery,Sydney
1994
Finalist in Moet & Chandon Award
Sport, Artspace, Adelaide
20 Artists / 20 Years, Coventry Gallery, Sydney
1993
Winner - Fisher Ghost Award, New South Wales
Finalist in Moet & Chandon Award
Chandler Coventry: A Private Collection,Campbelltown City Art Gallery
Victor Mace Gallery, Brisbane
1992
Dick Bett Gallery, Hobart
Coventry Gallery, Sydney
1991
New Art Five, Coventry Gallery, Sydney
1990
BMG Gallery, Adelaide
Coventry Gallery, Sydney
1989
Selected Survey, Noosa Regional Gallery, Noosa

COLLECTIONS
Allen,Allen & Hemsley, Sydney; Annelie Brunsten Gallery, Germany; Artbank, Australia; Art Gallery ofSouth Australia; Art Gallery of Western Australia; Baker & McKenzie,Sydney; Campbelltown City Art Gallery; CCT Internet Travel, Brisbane; DerwentCollection, Hobart; De Pasquale Advertising, Brisbane; Derwent Collection,Hobart; Flinders University, South Australia; Gadens Ridgeway, Sydney; GoldCoast City Art Gallery; Marsdens, Sydney; National Gallery of Victoria;Northern Territory Art Museum; Optus, Brisbane; Pan Continental Mining;Radisson Playford, Adelaide; Red Ochre Restaurant, Adelaide; St Peter'sCollege, Adelaide; Tamar Collection, Hobart; Taxation Department, Melbourne;Tiffins on the Park, Adelaide; University of the Northern Territory; Universityof Southern Qld