BIOGRAPHY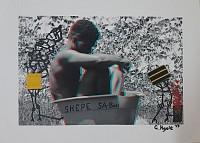 GIGGS KGONAMOTSE KGOLE
(b. 1997 Kutupu Village, Limpopo)
Giggs Kgole was born in Kutupu Village in Limpopo in 1997 and grew up in Tembisa, Johannesburg. His father worked at the Kelvin Power Station and he attended the nearby Cresslawn Primary School in Kempton Park. In grade six, upon returning from his initiation in Limpopo, he applied for a scholarship with the Student Sponsorship Program (SSP). From a pool of 3000 applicants, he was one of 25 that won full scholarships - in his case, to the prestigious St John's College in Houghton, where he completed high school. He considers this a great achievement for himself and his family, as not only was he the first person to attend a private high school, but the first in his family to reach and pass Matric.
His transition from Tembisa and Kempton Park to a prestigious high school like St. John's College was initially challenging. The level of education was more demanding and teaching methodologies differed from what he was used to. His first year at a new school was difficult and he clung onto words of wisdom from his mother, who said "A man who is weak and seeks help gains more wisdom than the one who is too proud." In time, the experience of confronting a challenging environment helped to develop the confidence and leadership skills which continue to serve him well.
His interest in drawing, architecture, film and design began early on. As a small child living in a rural area, he used to run down to the river in the mornings to collect heaps of mud to mould houses and little tractors with which to play. The process of creating makeshift toys and games allowed him to explore his creative talents for the first time.
At 12 years of age, he opted to go through Koma - the traditional Pedi Initiation that marks the transition from boyhood to manhood. This gruelling process tested his limits and helped shaped his character, pushing him to discover strength he never knew he had. The experience - its challenges, rituals and tribulations - is explored in his artwork.
In 2013, he was part of a student exchange program with Glenalmond College in Scotland. His trip opened his eyes to the breadth of the global community, but also allowed him to appreciate his African heritage from a different perspective. It allowed him to realise the extent to which South African stories are untold to the world outside. It instilled within him a desire to tell these stories through his art, conveying the vibrancy and complexity of life in his home country.
He is currently working on a project that empowers women in his village, through the production and sale of art. He aims to have his own studio in the near future, where creative students in need of employment can develop their abilities and support themselves.
In 2016 he was fortunate to be mentored by prominent artist William Kentridge. Kgole says that this has, "allowed me to express myself creatively and has guided me through the workings of this industry." He appreciates the guidance he has received from prominent artists like Blessing Ngobeni and Ayanda Mabulu, yet is intent on staying true to his own identity and style. Kgole is set to keep climbing the ranks in the art world and hopes to create a legacy as a unique and versatile artist.
CV
Selected Solo Exhibitions
2017
'Coming of Age', Everard Read, SA
2016
'Introduction Series edition I', Julie Miller Investment Institute, SA
'Everything Is Relative', Julie Miller Investment Institute, SA
Selected Group Exbihintions
2017
'Spectrum', Everard Read, SA
2016
'Solo New Signature finalist', SA
'Youth Arts Massif//YAM', SA
2015
'UJ & JJC Art and Design Awards Exhibition', SA