BIOGRAPHY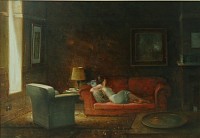 HAROLD VOIGT
(b. 1939 Johannesburg, South Africa)
BIOGRAPHY
Harold Voigt was born in 1939 and educated in Johannesburg, South Africa. He studied architecture before embarking on a brief career in advertising and film making. In 1971 he decide to make paintings his full-time profession. He designed and built a home on a mountain in the eastern Lowveld of the Mpumalanga Province of South Africa, where he now lives and works with his wife, Leigh, also an artist. He has participated in group exhibitions nationally and internationally and held seven one-person exhibitions, six of them at Everard Read.
A painter of landscapes, abstract works and the human figure, Voigt concentrates on textural qualities, light and colour, derived from the African Landscape. He uses a wide range of mixed-media techniques, incorporating sand, marble dust, wax and oil. From 1974, he painted a series entitled "The Animal in Africa"; from 1975-79 "The African Landscape" ;from 1986 "The Female Figure" and from 1986 abstract work derived from the colours and textures of Africa.
STATEMENT FROM GUNTER SCHLOSSER
As is true of all great colourists, it is the subtlety rather than the brilliance of colour that gives Voigt's paintings their luminous glow. There are in fact very few identifiable colours in them, drawing their almost palpable light from the unified relationship between the subdued tones where each part is subordinate to the whole and transitions are as evocative as the colours themselves.
It has been said, and rightly so, that Voigt's art is reminiscent of music. And indeed, if one looks at the pearly radiance of his early abstract paintings, one might easily take their chromatic variations in a single colour idea for the visual equivalent of a Bach cantata. As for the natural lyricism of his landscape paintings, the horizontal layers of colour with their smooth recession into space are perhaps more evocative of a mood which is akin to lyric poetry or verse of faintly shadowed vowel sounds, a poetry of which Mallarme once said: 'La verite est dans une nuance' (The truth lies in a nuance).
CV
EDUCATION
1957
Briefly studied architecture at the University of the Witwatersrand;
1965, 1972
Studied painting under Bill Ainslie (qv).
Worked as Creative Director of a Johannesburg advertising agency, and wrote and produced documentary and feature films before turning to full-time painting in 1973. From 1974 he has been based in the Eastern Transvaal Lowveld.
EXHIBITIONS
2019
A Retrospective Exhibition, Everard Read Gallery, Jophannesburg
2013
Recent Paintings, Everard Read Gallery, Johannesburg
2002-2013
Participated in several group shows at the Everard Read Gallery
2002
Retrospective at Everard Read Gallery, Johannesburg
1997
Everard Read Gallery, solo exhibition
1991
Everard Read Gallery, solo exhibition
1987
Vita Art Now, Johannesburg Art Gallery
1986
Everard Read Gallery, solo exhibition
1979
Everard Read Gallery, solo exhibition
1977
Pieter Wenning Gallery, solo exhibition
1973
Gallery 21, Johannesburg, first of six solo exhibitions in SA
1971
He has participated in several group exhibitions from 1971 in Johannesburg.