BIOGRAPHY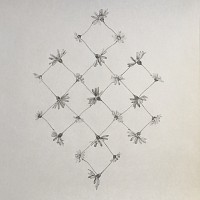 BIOGRAPHY
Jane Eppel is a South African artist based in the Cape Peninsula, the smallest yet richest of the world's six Floral Kingdoms. Inspired by nature, her work focuses on the abundance and diversity which daily surrounds her.
Recent work includes multiple-plate prints of insects that form complex mandala shapes. While the insects depict metamorphosis and transformation, the meditative, balanced shapes of the mandalas are, in Jungian thought, seen as symbols representing the effort to re-unify the soul. Her new body of work, to be exhibited in 2017, re-imagines the simple daisy in a myriad of shapes and symbols.
Jane is married to fellow South African artist, Nic Bladen, whose cast botanical sculptures have been exhibited internationally. They live in Kommetjie with their two children.
CV
Jane Eppel was born in Cape Town in 1979. Majoring in printmaking, in 2001 she received a B.A. in Fine Art from the Michaelis School of Art, UCT.
Jane Eppel has had two acclaimed solo exhibitions of her paintings, the first at the Irma Stern Museum in 2006 and the second, 'Sanctum' at Bell Roberts Gallery in 2008. Since 2010 Jane has been exploring intaglio etching as a medium. Her third solo show, 'Jane Eppel: Recent Prints' was held at the South African Print Gallery in 2011. In August 2012 Jane launched her 'Alphabet of Fynbos' etching series, also at the South African Print Gallery, Cape Town.
In addition to solos, Jane has participated in many group shows throughout South Africa, and has also shown her work in New York, alongside the work of her husband, artist Nic Bladen.
After a three year hiatus from art-making owing to the birth of two children, Jane has returned to print-making, albeit at a very slow pace. A fourth solo exhibition, of etchings, is planned for late 2017.
EXHIBITIONS
2017
Namesake, Everard Read Gallery, Johannesburg
2013
Jane Eppel; Recent Work solo show at Rust en Vrede Gallery, Cape Town
2012
TRACE, a joint show with Cathy Abrahams at In Toto Gallery, Johannesburg.
An Alphabet of Fynbos, solo show at the South African Print Gallery, Cape Town
Nature of the Earth: conversations from above and below with Nic Bladen, Astrid Dahl and Katherine Glenday at Amaridian Gallery, New York
2011
In Bloom II a group show focusing on indigenous flora, at the Casa Labia, Muizenberg Print a group show at Rust en Vrede Gallery
Art on Paper group show at Kalk Bay Modern Gallery.
Jane Eppel: Recent Print' solo show at the South African Print Gallery, Cape Town
Natural Selection' a joint show with botanical sculptor Nic Bladen at Rust en Vrede Gallery, Cape Town
10 Years On An exhibition curated by Andrew Lamprecht and Jessa Mockridge, acknowledging the 10 year milestone of the 2001 Michaelis graduates. The Michaelis Gallery, UCT (with Ed Young, Cameron Platter, Daniel Halter, Gretchen Conway van der Byl, Sean Slemon and Zen Marie)
2010
In Bloom a group show focusing on indigenous flora
Coppertone 77 Summertime group exhibition at Salon 91, 91 Kloof St, Gardens. (with Marlize Keith, Michael Taylor, Lorenzo Nassimbeni, Paul Painting, Gabrielle Raaff and others)
20-squared at Dorp Street Gallery, Stellenbosch, a group show of artworks measuring 20cm x 20cm
Prints at These Four Walls Gallery, Observatory (with Judy Woodbourne, Tracy Payne, Paul Painting and others)
HEEMS: a botanical-themed group exhibition at Kruisrivier Farm, between Outshoorn and Calitzdorp. (Participating artists include Hanneke Benade, Nic Bladen, Tracy Payne, Marlieze Keith, Kurt Pio and others)
Art on Paper and Ceramics at the Kalk Bay Modern Gallery (participating artists include: John Bauer, Deborah Bell, Willem Boshoff, Katherine Glenday, David Koloane, Colbert Mashile, Clemintina van der Walt and others)
Contemporary South African Art curated by Geeta Chagan at Degree Art Gallery, Vyner S, London
Tretctchikoff and me a group curated by Andrew Lamprecht at Salon91 Gallery, Cape Town (with Lyndi Sales, Wayne Barker, Lorenzo Nassimbeni, Ed Young and others)
Smorgasbord a group show at Wessel Snyman Collective, Cape Town
Affordable Art Fair' Bristol, UK
Heartland a 3-woman show with Marieke Prinsloo and Mila Reyneke at Grande Provence Gallery, Franschhoek
2009
Let them eat cake a group show with Conrad Botes, Tracy Payne, Kurt Pio, Gabrielle Raaff, Frank van Reenen and others at the Dorp Street Gallery, Stellenbosch
Angels IV, the annual Summer exhibition at Grande Provence Gallery, Franschoek
Artworks on Paper' with Penny Siopis, Cecil Skotnes, Colbert Mashile, Lyn Smuts, Nat Mokgosi and others at Kalk Bay Modern Gallery
2008
Sanctum, second solo exhibition, at Bell Roberts Gallery, Cape Town
2007
PRINT 07 at Bell Roberts Gallery, Laurensford
Greenhouse at Bell Roberts Gallery, Laurensford
2006
Orient'ation: bearing east, first solo show, held at the Irma Stern Museum in Cape Town
2004
Brett Kebble Award finalist
Curiosity CLXXV, an exhibition celebrating UCT's 175th anniversary
PUBLICATONS
Jane Eppel, Sanctum, published by Bell-Roberts Publishing ISPN 978-0-620-40619-2