BIOGRAPHY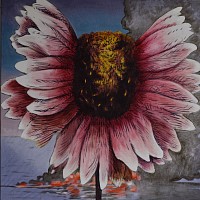 Matthew Hindley
(b. 1974, Cape Town, South Africa)
CURRENT WORK:
In 2015, Matthew Hindley had a solo exhibition at the Everard Read, Cape Town. In the wake of the fires that consumed the mountain above the city, Hindley had been drawn to the ruined, scorched landscapes and had started painting them. He then did a work featuring the fire itself and immediately a new subject was revealed to him: not the consequences of the conflagration but the conflagration itself, that luminous moment of blossoming before the transition became apparent. Many of his images came from popular sources and social media – several from images people took on their cell phones and posted on Instagram.
Following this show, he did a series of dry points with David Krut that featured fires and explosions – images of destruction sourced predominantly from films and the internet. He has carried the graphic mark-making he adopted in these images into his new series of large-scale paintings, so that the new works become more stylised and more overt as representations of fires and explosions rather than naturalistic images of these events. He uses highly transparent Shminka oil paints that he uses almost like watercolours, building layers and creating an extraordinary luminosity in the images. Hindley also seems to be occupying a middle-space here between photography (the sources are usually photographs), graphic images, painting and drawing. He states he has been drawn to Goya and Van Gogh – and the capacity of the line, or the movement of the line, to carry emotion, vibrate with feeling.
Through images of war on television and Hollywood action films, we have grown accustomed to seeing explosions. They are often beautiful, spectacular. We consume such images often, perhaps daily. In this latest body of work, Hindley slows these events right down and asks us to contemplate them more closely. The images often become abstracted, morphing into suggestions of other images – with baggy minsters in the billowing clouds.
We are aware that these are paintings, representations, and are compelled to consider how we reflect on or respond to violent events. Each event is given a particular emphasis, like a sunset that can never be repeated. Each event is specific, defined – and yet as timeless as a sunset too, suggesting that war and destruction have followed the progress of humanity across time and space – and that our moment of transcendence might be glorious, memorable, worthy or representation, but the danger is always that we will leave little but a charred wasteland in our wake.
Craig Higginson
BIOGRAPHY:
Matthew Hindley graduated from the Michaelis School of Fine Art, Cape Town, in 2002, where he was awarded the Michaelis Prize.
As one of the countries' most recognized younger painters, Hindley's intense, poetic and delving artworks have featured in various critical and seminal South African exhibitions. Recent solo presentations have included An Everlasting Once at Brundyn + Gonsalves, Cape Town (2011) and Twilight of the Idols at Biksady, Budapest (2013). Hindley's exhibition of drawings at David Krut Cape Town coincided with the official launch of the book, The Five Magic Pebbles & Other Stories. His new solo painting presentation Resurrection (Der Brennende Wald ) was held at Everard Read Cape Town gallery, also in Cape Town in October 2015.
In addition, he has presented at the world renowned Eli and Edythe Broad Museum, Michigan (2012) and the Kochi Muziris Biennale, India (2012). In 2014, he worked on a series of paintings inspired by the mythological African tales of South African writer Don Mattera, for a book published by Rhodeworks, in Berlin, Germany. In 2015, his artwork will be part of the imago mundi, Benetton Collection at the Venice Biennale, and his major public sculpture Speak Naturally and Continuously will undergo conservation, in order to have the delicate physical computing piece in permanent running order. The artwork is installed above the entrance of the South African National Gallery in Cape Town, South Africa.
CV:
EDUCATION:
2002 Bachelor of Fine Arts, University of Cape Town, Cape Town, South Africa
SELECTED SOLO EXHIBITIONS:
2015 Resurrection (Der Brennende Wald), Everard Read, Cape Town, South Africa
2013 Twilight of the Idols , Biksady Galeria, Budapest, Hungary
2012 One Pearl of Great Price , VOLTA8, Basel, Switzerland
2011 The Solo Project, Basel, Switzerland
An Everlasting Once , Brundyn+, Cape Town, South Africa
2009 Like, like, like, like a Circus , Brundyn+ Wembley Project Space, Cape Town, South Africa
Black Out , Brundyn+, Cape Town, South Africa
2007 Private Vernissage (with Kromschroeder & Pfannenschmidt), Berlin, Germany
2006 Before My Time , 34Long, Cape Town, South Africa
2005 Speak Naturally & Continuously , Iziko South African National Gallery, Cape Town, South Africa
2004 Klein Karoo National Arts Festival, Oudtshoorn, South Africa
Surrender , Bell-Roberts Gallery, Cape Town, South Africa
SELECTED GROUP EXHIBTIONS:
2015 HOMAGE, Everard Read, Cape Town, South Africa
EMPIRE, Everard Read, Cape Town, South Africa
Imago Mundi - Map of New Art, Benetton Collection, Fondazione Giorgio Cini, Venice Biennale, Italy
2014 TWENTY: Contemporary Art From South Africa , Turchin, Centre for the Visual Arts, Appalation State University,
North Carolina / Traveling to the Beijing Biennale, China in 2015
2013 Material/Representation , Brundyn+, Cape Town, South Africa
2012 Collateral Segment - BRICS , Kochi-Muziris Biennale, Kochi, India
Global Groove , Eli & Edythe Broad Art Museum, Michigan, USA
2010 Spier Contemporary Biennial, Cape Town, South Africa
2009 Dada South , South African National Gallery, Cape Town, South Africa
2007 South African Art , Danubiana Art Museum , Bratislava, Hungary
2005 Videobrazil, WWWF Anthology Performance, Brazil
2004 A Decade of Democracy: Witnessing South Africa , National Center for African American Arts, Boston, USA
2003 On the road again , Engler & Piper Projekte, Berlin, Germany
MTN New Contemporaries, Museumafrica, Johannesburg, South Africa
2002 In no particular order (vol.1) , 16th Recontres Video Art Plastique, Normandy, France
2001 World Wide Video festival, Arti et Amicae, Amsterdam, The Netherlands
AWARDS:
2005 Winner of the permanent public art installation competition, South African National Gallery
2002 Michaelis Prize, UCT, Cape Town, South Africa
2002 Simon Gershin prize, UCT, Cape Town, South Africa
1994 Irma Stern prize, UCT, Cape Town, South Africa
SELECTED PUBLIC COLLECTIONS:
Vass László Collection, Veszprém, Hungary
IZIKO South African National Gallery, Cape Town, South Africa
University of Cape Town Collection, Cape Town, South Africa
PUBLICATIONS:
2014 Artwork for The Five Magic Pebbles, and other stories written by Don Mattera, published by Rhodeworks, Berlin