BIOGRAPHY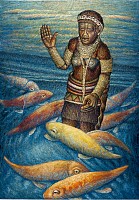 MMAKGABO HELEN SEBIDI
(b. 1943 Marapyane, South Africa)
BIOGRAPHY AND WORK:
Mmakgabo Mapula Helen Sebidi was born in 1943 in Marapyane (Skilpadfontein), in the Hammanskraal area of the Northern Transvaal. As her mother was working as a domestic worker in the city for much of her childhood, she grew up with her grandmother, who taught her the values that would guide and sustain her life. This includes the channelling of spirit back into the world through hard work, the commitment of the self to the community, but most of all through acts of creativity – whether this be cooking, constructing mud walls, creating murals, making pots and decorating calabashes, weaving, beading, dress-making, knitting, drawing or painting. For Mmakgabo Sebidi, the artist starts from a root of pain and conflict and works her way towards the redemption of both herself and those around her through the act of making. The creator becomes invisible during this process and is the channel through which the spirit world flows. The artwork can be seen as the trace of this redemptive journey.
Sebidi's art also demonstrates an attempt to go back to a pre-Christian, pre-colonial Africa – to a range of symbols, a value system and a way of making meaning of the world that can still be found in pockets in the rural areas.
Mmakgabo Sebidi spent much of her young adult life (she left school after Grade 8) as a domestic worker in Johannesburg. Before moving to Johannesburg she had never seen white people. Following a period of false imprisonment for stealing food, she started to occupy her spare time making dresses and knitting. She sent the money home to help support her grandmother and her extended family. When a German employer – Heidi – starting painting, Sebidi expressed an interest in painting herself and was given her first set of oil paints. She then sought lessons and finally joined the art classes of John Koenakeefe Mohl before returning to Marapyane in 1975 to look after her ailing grandmother. During the early 80s she also trained at the Katlehong Arts Centre to improve her clay technique. Here she worked on pottery and sculpture and gave classes to children. After the death of her grandmother in 1981, she remained in the rural areas, earning extra money from painting rural stories onto calabashes and making pottery.
In 1985, Sebidi had her first solo exhibition at FUBA. It was arranged by her teacher and mentor Mohl, who died shortly before the exhibition opened. At the time she was living in a township hostel with few possessions other than a blanket, soap, a face cloth and her paints. After this exhibition – arguably the first solo exhibition for a black female artist in the country – her fortunes began to change. Through the exhibition she met Bill Ainslie, who encouraged her towards more abstracted work. She also joined the Art Foundation, training and exhibiting with white and black artists together for the first time. Until this period, Sebidi has been exhibiting at Zoo Lake and selling her work mainly to tourists. From her solo exhibition on, she would become increasingly known in the art world – and would join the Everard Read as one of their most significant and influential artists.
Makgabo Sebidi's accomplishments were recognised in 1989 when she was approached by the America Embassy with a view to applying for an international award. To her surprise, she won the award and was given a Fulbright scholarship to travel to the US, where she had a placement at the Millay for the Arts in Austerlitz. Her occupation as described by her identity documents was simply 'domestic servant'. She also went on a tour of America, where she met up with the 'stolen people' (African Americans), 'the people whose land was taken from them (Native Americans) and those who work the land (farmers and agriculturists). She concluded that we have far more in common than whatever separates us and that all the lessons she has needed in her life were available to her through the teachings of her grandmother and her community. While in America, she also spoke at Yale and Mississippi University and attended a 45-day workshop in Washington with African America artists. That same year Sebidi also won the Standard Bank Young Artist Award. From the 1990s to the present, Sebidi had travelled and exhibited throughout the world, including the UK, Holland and the US.
Mmakgabo Sebidi is without question an inspiration and pioneer to the younger generation of South African artists. Working predominantly in pastel, acrylic and oil paint, she has developed a distinct style that uses vibrant juxtaposed colour, rough surfaces, distorted perspectives, abstracted human and animal figures, dream images – often in a pointillist, stippled style of pastel or paint application. More recently she has returned to sculpting in clay and this exhibition features the first of her sculptures ever to be cast in bronze.
Sebidi states: "My early works were traditional wall paintings using dung to get the right shine. Now I paint differently. I don't use my brain but am only controlled by a spirit. When the picture is finished it will speak. It will come alive and there will be movement. My pictures show me the way I must go."
Today Mmakgabo Sebidi lives in Parktown, Johannesburg, where she also has her studio. She spends much of her spare time helping to inspire and encourage the younger generation – especially of artists. In 2004, President Thabo Mbeki awarded her the Order of Ikhamanga (the Strelitzia or Bird of Paradise Flower) – which is the highest honour given to those considered a 'national treasure'.
CV
EXHIBITIONS
2016 
Everard Read Johannesburg (Solo Show)
Fundação Bienal de São Paulo (Group Show)
2013 
Centennary Exhibition, Everard Read (Group Show)
2009 
Great South African Nude Exhibition at Everard Read (Group Show)
2008 
Joburg Art Fair 2008 with Everard Read
2006 
Oman, Group Show
2005 
Telkom exhibition
Oman, Solo Show
2004 
'Visible Visions' travelling exhibition: Germany: Hagen, Essen, Berlin and Osnabrueck; Holland: Tilburg
2003 
Solo: The artificial shelter foundation: Tilburg
2002
Art in the context of the World Earth Summit on sustainable development
International travelling exhibition, 'World Women, Visible Visions from 'International Women', opened in Johannesburg
International world summit exhibition: Tilburg
2001 
'The Markers' exhibition, Venice Biennale, Italy
Association with Freedom Park begins
2000 
Axis Gallery, New York, USA
University of Illinois, Urbana Champaign, Krannert Art Museum and Kinkead Pavilion
1999 
Human Rights Institute Exhibition, National Art Gallery, Durban
Changing Screens Exhibition, The Firs, Rosebank
Standard Bank National Drawing Competition, toured SA
1994 
'Six Women from Southern Africa', Exhibition in Lisbon, 1994 Civic Gallery, Johannesburg
1993 
'Women from Africa' Exhibition, Savannah Gallery of Modern Art, Bethnal
Green, London, representing eight woman artists from Africa
Group Exhibition – African Hei-iti-@e – Uranienborgreien, Norway
Graphics Exhibition, Jyraskyla, Finland
Group Show – Biennale Italy
Three-person show at the Everard Read Gallery with Lucky Sibiya and Noria Mabasa
Group show at Stedelike Museum, Amsterdam
'Il Croce Del Sud', Rome, Italy
1992 
'Future Realms', two person exhibition, The Afrika Futuristic Gallery, Johannesburg
'Art from South Africa', SA National Gallery, Cape Town
Standard Bank Young Artists Award Winners Exhibition, Zimbabwe National Gallery
1991 
'A Grain of Wheat' Group Exhibition at the Art Gallery of the Common Institute, London
Standard Bank Young Artists Award Winners Exhibition, Namibia
'The Challenge to Colonization' Group Exhibition, 4th Havana Biennial, Cuba
1990 
Art from South Africa Exhibition, Museum of Modern Art, Oxford
Mozambiquan National Gallery
Zabalaza Festival, group show as part of South African Festival, Institute of Contemporary Arts, London
1989 
'Ten Years of Collecting', University of the Witwatersrand. Standard Bank National Festival of the Arts, Grahamstown, resulted in a touring solo show, visiting museums and galleries, ending in Namibia in 1991.
Biennale in Museum Africa, Johannesburg
Sunday Times 'Finders Keepers', Cape Town National Gallery
Included in a group exhibition, 'The Laager', Museo de Arte, Pretoria
Contemprario Santiago, Chile
Centre of the Arts Yerba Buenga Gardens, San Francisco
The Everard Read Gallery – 'South Africa's Finest Painters'
'Common and Uncommon Ground', South African Art to Atlanta, City Gallery East, Atlanta, Georgia
Solo Exhibition, London
Solo Exhibition, Hamburg, Germany
1988–9 
Cape Town Triennial, toured SA
1988 
Detainees' Parents Support Committee – 100 artists protested against detention without trial, 'The Neglected Tradition', Johannesburg Art Gallery.
Art Images in Southern Africa, Group Show, in Stockholm, Sweden exhibition
SA Potters Association
Thopelo Art Workshop and Exhibition, Cape Town, South Africa
1987 
'Vita Art Now', Johannesburg Art Gallery.
Delfiri/FUBA Creative Quest Exhibition, FUBA
FUBA (Seven Woman Artists)
Thupelo Workshop Exhibition, toured to Johannesburg Art Foundation and NSA Gallery, Durban
1986 
FUBA, Johannesburg (Solo Show)
'Art for Alexandra', Sotheby's, Johannesburg
Johannesburg Art Foundation Thupelo Workshop Exhibition, University of the Witwatersrand
1980–81 
Washington, USA (organised by a private collector)
1980–88 
Brush and Chisel Club, Johannesburg
1977–88 
Artists under the Sun, Johannesburg
COLLECTIONS
Africana Museum, Johannesburg
Art Workshop, London
Sasol Collection
Unisa, Pretoria
University of Bophuthatswana, Mafikeng
Tatham Art Gallery, Pietermaritzburg
Johannesburg Art Gallery
Centre for African Studies, University of Cape Town
South African National Gallery
1820 Settlers Foundation
Standard Bank Collection
Pretoria Art Museum
The National Museum of Women in the Arts, Washington and New York
University of the Witwatersrand
Price Forbes
Federated Insurance Co
Department of Education and Training
Galerie Adriana Schmidt
University of Wolverhampton
H Roque Investments
ABSA Bank
World Bank
South African Broadcasting Corporation
Gencor
First National Bank
SA Permanent Bank
Smithsonian National Museum of African Art, New York, USA
Aboriginal Art Museum, Australia
AWARDS:
2015 
Mbokoto Women's Award
2011 
Lifetime Achievement Award for Visual Art
2005 
Nomination for ILKSSA: National Heritage Council, National Living Treasure Award
Oman Association of the Arts Award
Award of the order of Ikhamanga silver award given by the Presidency, the Republic of South Africa, Chancery
2002 
Nomination for the 1st nominee in the Human Sciences Research Council Living Treasure Award
1990 
Vita Fine Art Award
1989 
Fulbright Scholarship – World Exhibition, New York
Standard Bank Young Artist Award
1988 
Star Woman of the Year finalist