BIOGRAPHY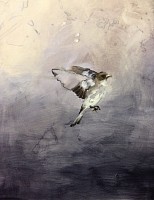 NICOLA TAYLOR
(b. 1984 Johannesburg, South Africa)
ARTIST'S STATEMENT
Nicola explores the natural world and the human condition, generating a sense of connectedness between the two through her artwork. What drives Nicola to make artworks are images that 'reaffirm our common experience' on a visual and scientific level. The process and the act of creating artwork is her focus. She says that an artwork should not just mean, it should be.
BIOGRAPHY
Nicola Taylor was born in Johannesburg in 1984. She studied painting in Florence, Italy, at the Scuola Lorenzo De Medici in 2003. She spent the following three years completing a Bachelor's Degree in Commerce, majoring in Philosophy, Politics and Economics at the University of Cape Town. She simultaneously worked on numerous art commissions. She also studied Practical Philosophy part-time while at UCT, which contributed hugely to the theory behind her work and subject selection.
Taylor moved to London after completing her undergraduate degree in Cape Town and studied painting at the Southwark Art Academy, taught by some of the most celebrated UK contemporary artists. She graduated with a first class merit from the academy in July 2009. While in London, she exhibited at Art in Action with artists from all over the UK. She also exhibited work at the Art Academy Graduate Show 2009 and at the Royal Institute of Great Britain with artists like Anish Kapor, Paula Rego, Cornelia Parker and Howard Hodgkin. She also tutored evening painting classes at the Art Academy. In July 2009, Taylor was selected as a resident artist of Tower Bridge in London for the project SEE an Artist, BE an Artist, commissioned by the Guy Fox History Project Limited, a British educational charity. The residency was followed by a show at Tower Bridge.
Taylor returned to South Africa at the end of 2009 to begin a new body of work for her first solo exhibition, A World Without Collisions, at the Everard Read Gallery, Johannesburg. Subsequently, she has had three solo shows, including her first international exhibition at the Dundas Street Gallery in Edinburgh, as well as participating in various group shows.
Today Nicola Taylor's studio is at the Bag Factory in Johannesburg. Her primary medium is oil on canvas. She is also currently working on various projects using printmaking, stop frame animation, installation and sculpture.
CV
SELECTED LIST OF EXHIBITIONS
2009
Residency in Tower Bridge, London
Joint Show in Tower Bridge, London
Group Show at Art in Action, London
Art Academy Graduate Show, London
Group Show Auction at the Royal institute, London
2010
Solo Show 'World Without Collisions' at the Everard Read Gallery
2011
Group Show at Math Room – Johannesburg
Group Show Etcetera, Johannesburg
Group Show at Sci Bono, Johannesburg
Mermaid Court Residency, London
2012
Solo Show 'Core' at Dundas Street Gallery, Edinburgh
Group show Art Academy Alumni, London
Residency at Londolozi
2013
Solo Show 'Root and Rise' at Everard Read Gallery, Johannesburg
David Kolaone Mentorship programme, Johannesburg
Group show 'Reverie Heights' Ansteys, Johannesburg
Johannesburg Art Fair, Bag Factory Group show, Johannesburg
2014
Group show 'Nirox | Winter Sculpture Show 2014', Johannesburg
Nirox Residency, Johannesburg
2015
Solo Show 'Come Together | Fall Apart' at Everard Read Gallery, Johannesburg
COLLECTIONS
Hollard Group Collection
RMB Collection
Ellerman House Collection
Many national and international private collections