BIOGRAPHY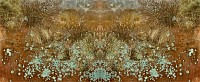 RINA STUTZER
(b. 1976 Vryheid, South Africa)
CURRENT WORK
Rina Stutzer's work is difficult to sum up because it is in a constant process of becoming, the pieces evolving out of each other, often guided by intuitive impulses rather than some clean-cut philosophy or aesthetic. But the works in this exhibition bring together some recent preoccupations, which include an interest in the corvidae or corvids (crows) and their relationship to the human, and an interest in exploring manifestations of and possibilities for 'the nomadic'.
Crows and magpies are said to be the most intelligent of bird species and Stutzer is interested in how they display characteristics that overlap with the human. They are known for their cunning, their capacity to prevaricate (an animal behaviour term for 'lie' or 'mislead'), their attraction to shining objects and their proclivity to store food items and other objects for times of need. While Stutzer is not trying to anthropomorphise crows, she is using crows in her work as a metaphor for the human and the place of the human in the world – especially in the context of South Africa. Both are often maligned unfairly, both are misunderstood, their dexterity can be used for good or ill, depending on your perspective. We are reminded of Ted Hughes's Crow poems – where the crow is infinitely adaptable, unpredictable, inexhaustible and capable of mischief. Here the crow also stands for the artist herself: both operate outside of society, both are subversive, they are tricksters playing around with the possibilities of reality.
The crow is also a nomadic creature – sometimes in flocks, sometimes solitary. A vagabond, surviving on leftovers, on other people's rubbish. In this series of work, the image of the tent recurs. The tent, like the human body, is a place we inhabit on our journey through the world. It is a temporary dwelling, a place we can call home – but only up to a point. Here we have tents nesting in twigs like crows and the naked female form resting on a forest floor. The tent is also often explicitly yonic in many of these works (yonic being the female version of phallic). The bronze sculpture Infold Dwelling Place is both female genitals and tent. We are reminded of the emergence of the human into the world, the birth of a child – the human spirit moving from womb to world, belonging in neither, only ever visiting both. So too the female forms on the forest floor are between life and death, between the human and a state of nature, dwelling both internally and externally. Here the 'spirit' that makes us human, gives us identity, is in a state of transition, moving between different realms, impossible to pin down.
Stutzer is interested in decay as a mode of renewal or regeneration. In several of these works she is painting with acid on a copper plate. These patinas will oxidise and change through time. The alluring detailed images we find today will not remain as they are but will evolve – in terms of colour and form. Stutzer likes making works that are not fixed, that are perishable – works whose identity is themselves ambiguous (as with the crow) and transitory, provisional (as with the nomad).
All that we know of the world is that we are passing through it. We are alive here, now. Stutzer urges us to have greater expectations for ourselves. She asks of us that we feel deeper, open ourselves more widely to the mystery of the present, understand that we must be gentle with one another because everything is delicate and provisional. This is why her work defies clear analysis: it works against clean-cut versions of the world and instead brings us back to the mystery that runs through all things.
Craig Higginson
BIOGRAPHY
Rina Stutzer (born 1976) completed her BAFA at the University of Pretoria in 1999 and went on to complete her MAFA at the same university in 2007. After graduation, she started lecturing part-time in Painting and Drawing in the Department of Visual Arts at the University of Pretoria. She works as a full-time artist, focusing on her own creative process and production, investigating both sculptural form and painting. In her recent paintings, she has been exploring 'painting' with acid as an everchanging image on copper plate as well as on paper. These images are presented alongside digital prints of the painting at the time of 'completion' (from when they are no longer actively worked on). However, during the patina and subsequent oxidisation processes (due to the acid content and its reaction to the metal), the original images continue to be altered and thus change in appearance.
Stutzer has achieved a number of accolades, including The Bettie Cilliers-Barnard Bursary from the University of Pretoria for excellence in painting (1999) AND the SASOL New Signatures Art Competition: People's Choice Award (1999). She was awarded the first prize in the Ekurhuleni Fine Arts Award Competition (2007) and achieved a distinction in Painting for her Master's degree in Fine Arts from the University of Pretoria in the same year. In 2012, she was awarded the Rendezvous: Focus Painting bursary (also named after the late doyenne of painting in South Africa, Bettie Ciliers-Barnard). This prestigious bursary afforded her the opportunity to attend a painting residency in France in 2013. In 2013, Stutzer also enjoyed a residency at Nirox and the following year she participated in the Sydney Art Fair and was a part of 20 Stellenbosch. In 2016, her work "Pinned transitory II" was exhibited at Reporting from the Front - Biennale Architettura 2016, South African Pavilion, Venice, Italy.
She has participated in a number of group exhibitions since 2000 in South Africa as well as in Great Britain and in the Netherlands. When not preparing for a solo exhibition, Rina Stutzer spends her time between her home studio and that of DSW (Dionysus Sculpture Works). She, along with her partner, manage the foundry and she is involved in all aspects of its running. Stutzer is represented by Everard Read Gallery, Johannesburg, Cape Town and London.
CV
Selected Exhibitions
2016
Reporting from the Front - Biennale Architettura 2016, South African Pavilion,V Venice, Italy
Solo exhibition, Everard Read, Johannesburg
Dionysus' Feast, sound sculpture collaboration, Tacit, NWU Gallery, Potchefstroom/ UJ
Art Gallery, Johannesburg/ William Huphreys Art Gallery, Kimberley
Cool Capital Saadjies Project, Pretoria/ Richmond/ Potchefstroom/Stellenbosch/Brussels/ Utrecht/ Amsterdam & London
Circa London opening, group exhibition, Chelsea
2015
Map of the New Art, Imago Mundi, Luciano Bennetton Collection, Isola di San Giorgio
Maggiore, Fondazione Giorgio Cini, Venice, Italy
Bronze, Steel and Stone exhibition, Everard Read, Johannesburg
Monologue, curated by Meredith Randall, Aardklop National Arts festival, Potchefstroom
outoftheCUBE's SA Art Print exhibition, 20th Grenchen Print Triennale, Switzerland
2014
Pinned Transitory installation, Nirox Winter Fair, Nirox Sculpture Park, Cradle Of Mankind, Gauteng
Still, Johans Borman Fine Art, Cape Town
What Lies Beneath, Equus Gallery, Cavalli Estate, Franschhoek
Guild International Design Fair, Look Out, V & A Waterfront, Cape Town
Sway, permanent installation, Everard Read, Johannesburg
Dionysus Sculpture Works' biannual exhibition, Grande Provence, Franschhoek
Nature, Sophie Lalonde Art, Gabarone, Botswana
Cool Capital DIY Biennale, public art exhibition, Pretoria
Morfform, Fried gallery, Pretoria
Syncopation, DSW group show, Aardklop, Pothecfstroom
2013
Sydney Art Fair, Australia (Everard Read)
Joburg Art Fair, (Everard Read)
Centenary exhibition, Everard Read, Johannesburg
Vaspen /Pegdown, Two person show, IS Art, Franschhoek
South Africa, group show, Gallery Vivienne, Paris, France
Tom Waits for No Man, group show (curated by Gordon Fraud), University of
Johannesburg, Grande Provence & KKNK
Hiernamaals/Hereafter, Woordfees, Slee Gallery, Stellenbosch
Dionysus Sculpture works' biannual exhibition, Arts Association, Pretoria
Engage, World Art Day group show, Arts Association, Pretoria
2013
Residency, Nirox Foundation and Sculpture Park, Cradle of Mankind, Gauteng
Cite' de Art, Paris, France
2012
For the Time Being, Everard Read, Johannesburg (solo)
Art Fair India, Delhi (Everard Read)
Joburg Art Fair, Johannesburg, (Everard Read)
Designs of Nature, Fried Contemporary group show, KKNK, Outdshoorn
Winter exhibition, Everard Read, Johannesburg
2011
Die Opbou van Afbreek, Aardklop, North-West University Gallery,
Potchefstroom (solo)
20 Stellenbosch: Two Decades of South African Sculpture, A Public Sculpture Exhibition, Stellenbosch
Friend – Request – Sent, The Cube, Bussum, Amsterdam
Dislodge/ Loswikkel, University of Johannesburg Gallery (two person exhibition)
Rendezvous: Focus Painting, Michaelis Gallery, Oliewenhuis Art Museum, University of Johannesburg Gallery, North-West University Gallery
Horse, Everard Read, Johannesburg
Designs of Nature, Fried Contemporary, Pretoria
Joburg Art Fair, Johannesburg (Everard Read)
Landscape 2012, Oude Libertas, Stellenbosch
2010
An Accumulation of Change, Everard Read Gallery, Johannesburg (solo)
Joburg Art Fair, Everard Read Gallery, Johannesburg
2009
Collaboration, Reservoir Gallery, Oliewenhuis Museum, Bloemfontein
Joburg Art Fair, Johannesburg (Rooke Gallery)
2008
Visuality/ Commentary, Visual Arts Centenary Exhibition, Pretoria Art Museum
2007
Medium Re-pulse, University of Pretoria (solo)
Contemporary Visions of Southern Africa, Pretoria Art Museum
AWARDS
1996-1999
University of Pretoria, Fine Arts Department – top student
1999
Bettie Cilliers-Barnard Bursary - painting excellence award
New Signatures Art Competition - People's Choice Award
2007
MA(FA) degree, painting major – distinction in painting
Ekurhuleni National Fine Arts Award Competition - first prize
2012
Rendezvous Focus Painting Competition, a Bettie Cilliers-Barnard Bursary first prize (award includes a working residency in France in 2013)
2014
Awarded overall Best Artistic Design for 3CR12 Stainless Steel construction from SASDA for the permanent installation 'Sway' at Everard Read Gallery, Johannesburg
PUBLIC COLLECTIONS INCLUDE
Ellerman House collection
Saronsberg Fine Art Collection
Spoornet
South African Embassy in Nigeria
Webber Wentzel Bowens Attorneys
University of Pretoria