BIOGRAPHY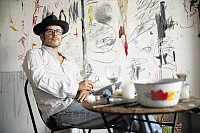 (B. 1963 Pretoria, South Africa)
WORK
Wayne Barker is a fine artist based in Johannesburg. He rose to prominence in the late 80s, at the height of the political unrest during apartheid. He remains one of the most prolific and influential artists to have emerged from the country. Barker's work has featured in several global biennales, art fairs and important retrospective exhibitions. He works in various mediums, including but not limited to painting, printmaking, sculpture, video, performance and installation. In addition to collaborations with other artists, Barker has collaborated with the Qubeka Beadwork Studio based in Cape Town, South Africa, to realise large-scale glass beadworks. Major concerns have included the legacy of colonialism in South Africa, issues of land and contestation – as evidenced in works referencing the paintings of JH Pierneef – issues around race, reconciliation and accountability as well as a sensitivity to humanist concerns that border on the poetic. His works have influenced contemporary art practice in South Africa, with several of his contemporaries and younger artists citing his work as turning points in perspective and practice.
BIOGRAPHY
Barker was born in Pretoria, South Africa, in 1963 to a white, conservative, working-class family. Barker's father was a South African Air Force pilot, later turned commercial pilot, and Barker and his siblings grew up on the Valhalla military base in Pretoria. After studying at Pretoria Technikon and half-completing a degree at Michealis, Barker returned home in 1983. He evaded military service through pretending to be mentally unstable and – having been disowned by his parents – set himself up as an artist in Johannesburg. Barker later went on to pursue an honorary postgraduate degree in Fine Art at the prestigious École des Beaux-Arts in Marseilles, in 1998.
Barker's name has become synonymous with rebelliousness and recklessness. He has been referred to consistently as the enfant terrible of the South African art sphere. Barker's Famous International Gallery (FIG) was a turning point in the exhibition of South African contemporary art between 1989 to 1995. An artist-run space, the gallery was a place for younger artists to exhibit their work. Many of these artists eventually rose to prominence, including Kendell Geers, Minette Vari, Barend De Wet and Stephen Cohen.
In 1993, a year after the end of the Mozambican civil war, Barker created a large-scale installation piece at the Everard Read Gallery entitled 'Coke Adds Life'. The installation was inspired by a trip to Mozambique, in which Barker visited a hospital and found several Coke vending machines but no doctors.
'Nothing Gets Lost in the Universe' was Barker's third solo show, shown at the FIG Gallery in 1995, and later the Gallery Frank Hanel in Frankfurt. Informed in part by the Truth and Reconciliation Commission, the exhibition consisted of latex gloves filled with objects found on the streets of Frankfurt as well as a larger installation of photographs, called 'Zelbst', in which over 300 portrait photographs of black people in 1970s South Africa were suspended from the ceiling.
In the early 90s, Barker started an investigation that would span over two decades. Taking the work of the Afrikaner nationalist landscape artist JH Pierneef (1886–1957), Barker began to disseminate what remains to this day a highly contested issue in South Africa – land, colonialism and ownership.
Barker would painstakingly recreate Pierneef's landscapes before introducing other elements to them – including neon dots, splatters of lacquer paint in neon colour, overlaying images he would pick (nudes, "church ladies", popular logos) in order to elaborate on issues surrounding land, contestation and desire in his own time. The Pierneef series has seen iterations in various media, finding itself translated into print media as well as in his collaborations with the Qubeka Bead Studio in Cape Town.
Barker remains a prolific and active figure in the South African contemporary art scene. In addition to 'Super Boring' (2010), a large-scale retrospective of his work at the Standard Bank Galleries in Johannesburg and Polokwane, as well as the SMAC Gallery in Cape Town, Barker has had two recent large-scale exhibitions of new work at CIRCA in Johannesburg. His most recent exhibition, 'The World that Changed the Image' (2016), shown at the Everard Read in Johannesburg, consisted mainly of new screen-printed works.
Barker lives and works out of his studio in Troyeville, Johannesburg, with his wife. He has lived in the area for several years, earning him the affectionate title "the Mayor of Troyeville". He has two daughters.
CV
SOLO EXHIBITIONS:
2020
Love Light in the Time of Corona, Everard Read, Johannesburg
Staring Straight to the future, Everard Read, Johannesburg
The Portrait Show, Everard Read, Johannesburg
2018
Drum Catalogue, Everard Read, Johannesburg.
2017
Art Paris Art Fair, Grand Palais, Paris.
Postcards, Everard Read, Johannesburg.
2016
The World that Changed the Image, Everard Read, Johannesburg and CIRCA Cape Town
2015
Normal Man, CIRCA, Johannesburg
2012
Love Land, CIRCA, Johannesburg
2010
Super Boring, SMAC Art Gallery, Stellenbosch
Super Boring, Standard Bank, Polokwane
Super Boring, Standard Bank Gallery, Johannesburg
2008
Heal, UCA gallery, Cape Town
2005
Land and Desire, Gerard Sekoto Gallery, Alliance Francaise, Johannesburg
2003
Lovers and Gurus, Contemporary Art Space, Caen, France
2002
ITS ALL GOOD, Crosspath Culture, New York.
2001
Two Cousins, Fig Gallery, London
1999
Fin de Ciècle, Nantes, France
1998
Kunst is Kinderspielen, Kunsthalle, Krems, Austria
Beauty in Politics, Millennium Gallery, Pretoria
All washed Up in Pretoria, Millennium Gallery, Pretoria
1997
All Washed Up In Africa, Gallery Frank Hanel, Cape Town
All Washed Up In Africa, Gallery Frank Hanel, Frankfurt, Germany
1996
Nothing Gets Lost in the Universe, Fig Gallery, Johannesburg
1995
Nothing Gets Lost in the Universe, Gallery Frank Hanel, Frankfurt, Germany
1994
Peace Through Blood, Fig Gallery, Johannesburg
1993
Coke Adds Life, Everard Read, Johannesburg
1992
Three Bodies of Love, Everard Read, Johannesburg
1987
Images on Metal, Market Theatre, Johannesburg
SELECT GROUP EXHIBITIONS:
2020
Pink: Art Joburg, Everard Read, Johannesburg
2020
The Portrait Show, Everard Read Gallery, Johannesburg
2013
My Joburg, la maison rouge, Paris (F), 20 June – 22 September, Curators: Paula Aisemberg and Antoine de Galbert. On the occasion of the South Africa-France Cultural Exchange
2009
I Linguaggi del Mondo: Languages of the World, collateral exhibition to the Venice Biennale, Pallazzo Querini Art House, Venice, Italy
Great South African Nude Exhibition, Everard Read, Johannesburg
History, UCT Gallery, Cape Town, South Africa
2008
Collection 10, SMAC Art Gallery, Stellenbosch
2007
Sasol wax art award Exhibition, Johannesburg Art Museum
2006
Urban Jungle, Afronova, Johannesburg
2001
No Logo, Prince Albert Museum, London, UK
1998
Kleine Plastiche Triennale, Stuttgart, Germany
memórias íntimas marcas, Electric Workshop, Johannesburg
1997
The World is Flat, installation, Alternating Currents, Trade Routes: History and Geography, 2nd Johannesburg Biennale, Johannesburg, South Africa curated by Okwui Enwezor and Octavio Zaya
All Washed Up Africa In Africa, French Pavilion, Venice Biennale, Italy
Köln Art Fair, under the Auspices of Frank Hanel Gallery, Frankfurt, Germany
Frankfurt Art Fair, under the Auspices of Frank Hanel Gallery, Frankfurt, Germany
Three x Ten, Frank Hanel Gallery, Cape Town
Future, Present, Contemporary South African Art, Goodman Gallery, Johannesburg, South Africa
1996
Colours, Haus der Kulturen der Welt, Berlin, Germany - opened by President Nelson Mandela
Groundswell: Contemporary Art from South Africa, Mermaid Gallery, London
1995
Africus, Black Looks White Myths, First Johannesburg Biennale, South Africa curator: Octavio Zaya Africus
The Laager, First Johannesburg Biennale, Johannesburg
1995
Scurvy, New Town Gallery, Johannesburg
Can Art Exist Alone: Art and Politics, Pretoria Art Museum, Pretoria
Brown and Green, Pretoria Art Museum, Pretoria
1993
Something New Always Comes Out of Africa, Newtown Gallery, Johannesburg
1992
Volkskas Atelier, Pietersburg Art Museum, Pietersburg
1989
Breaking Down the Wall: Pierneef Series, FIG Gallery, Johannesburg
COLLECTIONS:
Durban Art Museum
Gencor Collection
Iziko South African National Gallery
MTN Collection
Polokwane Art Museum
Sanlam collection
Sasol Collection
SABC collection
Sandton Civic Gallery
Spier
Standard Bank Gallery
Wits Art Museum (formerly Gertrude Posel Gallery), University of Witwatersrand
SELECTED PUBLICATIONS, CATALOGUES AND ARTICLES
'Super Boring', 2010, SMAC & Standard Bank Gallery
'The ID of South African Artists' (catalogue), 2004, Sharlene Khan (ed). Fortis Circus Theatre, Holland
'Wayne Barker: Artist's Monograph', 2000, Brenda Atkinson (ed)
'Trade Routes: History and Geography', 1997, Matthew DeBord (ed) Catalogue, 2nd Johannesburg Biennale
'Contemporary South African Art: The Gencor Collection', 1997, Kendal Geers (ed)
'Art in South Africa: the future present', 1996, Sue Williamson and Ashraf Jamal (eds)
'Colours', 1996, Haus der Kulturen der Welt, Catalogu,
'Africus: First Johannesburg Biennale', 1995, Candice Breitz (ed), Catalogue