BIOGRAPHY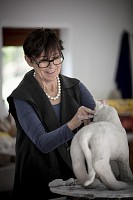 (b. 1945 Johannesburg, South Africa)
WORK
Wilma Cruise is a South African sculptor and visual artist. She works mainly with fired clay in her renderings of life-sized human and animal figures. Her sculpture installations and exhibitions are often accompanied by works on paper – large format drawings. She has also completed several series of print editions. A number of her ceramic sculptures have been successfully translated into bronze editions.
Themes explored in Cruise's work include the interface between humans and animals and existential conditions of muteness – silent, internal battles in the search for meaning.
Cruise has had over twenty solo exhibitions, curated others and completed a number of public works including the National Monument to the Women of South Africa at the Union Buildings, Pretoria and The Memorial to the Slaves in Cape Town.
Her work is represented in public, corporate and private collections throughout South Africa. She has participated in the Havana Biennale, the Florence Biennale and the prestigious 7th Gyeonggi International Ceramic Biennale in Seoul, Korea.
Cruise is currently pursuing her doctoral studies at the University of Stellenbosch in the field of art and animal ethics, she is a fellow of Ceramics South Africa and writes extensively in the field of ceramics.
CV
SELECTED SOLO EXHIBITIONS
2019
Some are More Equal than Others, RK Contemporary, Riebeek Kasteel
2016
Six Impossible Things Before Breakfast, Gallery University Stellenbosch
The 8th Square, Cavalli Gallery, Cavalli Wine Estate, Somerset West
2015
Advice from a Caterpillar, David Krut Projects, Arts on Main, Johannesburg, South Africa
Clay Museum, Cape Town , South Africa
2014
Menagerie at Tokara, The sculpture garden at Tokara Wine Estate, Curated by Ilse Schemers
2013/4
Will you, won't you, will you join the dance? National Arts Festival, Grahamstown and Oliewenhuis Museum, Bloemfontein, South Africa
2012
The Alice Diaries, Circa on Jellicoe, Johannesburg, South Africa
2011
Wilma Cruise at Wildekrans Country House. Houhoek, South Africa
Alice and The Animals. University of the North West Art Gallery, Potchefstroom, South Africa
The Animals in Alice, iArt Gallery, Wembley Square, Cape Town, South Africa
2008
SPLIT LON.NY.JHB. David Krut Projects, Johannesburg, South Africa
2006
Cruise at Krut: Wilma Cruise Works on Paper, Johannesburg, South Africa
2001
HYS. SUSP. text/image/sound. Millennium Gallery, Pretoria, South Africa
2000
rapRACK, Goodman Gallery, Johannesburg, South Africa
1998
Mirroring ourselves (with Regi Bardavid), AVA Gallery, Cape Town, South Africa
1997
Continuous projection, African Window Museum, Pretoria, South Africa
1996
John's wife, First Gallery, Parkhurst, Johannesburg, South Africa
1993
Nicholas - October 1990, Goodman Gallery, Johannesburg, South Africa
1991
Jacobs and Liknaitsky Gallery, Cape Town, South Africa
1990
Untitled: (everlasting nothingness made visible), Goodman Gallery, Johannesburg, South Africa
1987
Portrait of my friends and other animals, Beuster-Skolimowski Gallery, Pretoria, , South Africa
1985
Sylvester in September. Beuster-Skolimowski Gallery, South Africa
All those lonely people. Things Gallery, Johannesburg,South Africa
1983
Collection. Beuster-Skolimowski Gallery, Pretoria. South Africa
SELECTED GROUP EXHIBITIONS
2017
Off the wall; A Group Sculpture Show, Everard Read Gallery, Johannesburg
2016
Opening Gallery Exhibition, CIRCA Gallery, London, UK
2015
(In) The Nature of Things, FynArts Festival, Hermanus, South Africa
Slow Violence, GUS, Stellenbosch, South Africa
The Princess in the Veld, Curated by Adele Adendorff, Klein Karoo Nasionale Kunstefees, Outshoorn, South Africa
Carved Relief Print Group Exhibition, David Krut Projects Johannesburg, South Africa
Summer Sculpture III, Everard Read, Mt Nelson, Cape Town, South Africa
2014
Play, Nirox, Johannesburg, South Africa
2013
7th Gyeonggi International Ceramic Biennale, Korea
Everard Read Centenary Exhibition, Johannesburg, South Africa
Re-envisioning the Anglo-Boer (South African) War, Curated by Angela de Jesus and Janine Allen. Johannes Stegmann Art Gallery and The War Museum of the Boer Republics, Bloemfontein, South Africa
Figuration and Negation, Fried Contemporary, Pretoria, South Africa
2012
The Rainbow Nation: Contemporary Sculpture from South Africa, Beelden aan Zee and Lange Voorhout, The Hague, Holland
2011
Selected Editions and Works on Paper, David Krut Projects, Cape Town, South Africa
Horse: Multiple Views of a Singular Beast, Curated by Ricky Burnett. Circa on Jellicoe, South Africa
Wilma Cruise, Frikkie Eksteen and Robert Hodgins. Curated by Basie Botha. Trent Gallery at Cameo Framers, Pretoria
2010
HERITAGE 2010, Curated by Albie Bailey, Paarl
Painters who Print, The Gallery at Grande Provence, Franschhoek, South Africa
Bodies in Transition. Curated by Elfrieda Dreyer. Fried Contemporary, Pretoria, South Africa
2009
The Urban Animal, Curated by Sonja Britz and Ann-Marie Tully, ABSA Gallery Johannesburg, South Africa
3, with Guy du Toit and Gordon Froud, NaudeModern, Pretoria, South Africa
2008
Space Fusion Artspace, Johannesburg, South Africa
2007
Montage, Resolution Gallery, Johannesburg, South Africa
Sculpture Garden, Grande Provence, Franschoek, South Africa
Little Deaths, (with Elfrieda Dreyer and Guy du Toit curated by Elfrieda Dreyer) Fried Contemporary, Pretoria, South Africa
2006
Roles/Robes, Fried Contemporary, Pretoria, South Africa
Home Sweet Home, Strijdom Gallery, George, South Africa
2005
Works on paper: Collaborative Prints from David Krut Print Workshop, Franchise, Johannesburg, South Africa
David Krut Collaborations: 25 Years of Prints and Multiples, National Arts Festival, Grahamstown
2002
Male Order, Standard Bank National Arts Festival, Touring exhibition
Manuscript Exhibition 4, Boekehuis, Johannesburg, South Africa
2001
Biennale Internazionale Dell'arte Contemporanea, Florence, Italy
Observations (with Guy du Toit and Dianne Victor), The Open Window Art Gallery, Pretoria, South Africa
2000
Water Colour Society of South Africa, (Guest Exhibitor). Norscot Manor, , South Africa
AS CURATOR
2004
Earthworks/Claybodies, (Deborah Bell, Wilma Cruise, Guy du Toit, Petros Gumbi), Sasol Art Museum, University of Stellenbosch, South Africa
2003
Earthworks/Claybodies. (Deborah Bell, Wilma Cruise, Guy du Toit, Josephine Ghesa). Pretoria Art Museum and Standard Bank Gallery
1999
(Re)figuring abstraction. (Regi Bardavid, Jenni Stadler, Pascual Tarazona), Sandton Civic Gallery, , South Africa
1995
Space/(Dis)Place. Africus Biennale, Johannesburg, (as artist and curator)
1992
Edges. Goodman Gallery, Johannesburg (as artist and curator)
1991
The contemporary vessel, Karen McKerron Gallery, Bryanston, (as artist and curator)
RESIDENCIES AND WORKSHOPS
2009
Artspace Mentorship Programme Mentor: Wilma Cruise. Mentee: Louis Olivier 19 to 30 September
2007
Lower Eastside Printshop, New York, March (supported by David Krut Projects)
Guest, Rhodes University, Grahamstown
Guest Rhodes Univerisity, Grahamstown
1998
Artist-in-residence, Standard Bank Festival of Arts, Grahamstown
1997
European contemporary art in the point of intersection between contemporary cultures and nations, Ryn, Poland
Havana Biennale, Cuba
PUBLIC AND COPRPORATE COLLECTIONS
Iziko (South African National Gallery)
Durban Art Museum
Pretoria Art Museum
University of South Africa Collection
Corobrik Collection
Polokwane Municipal Collection
Billiton
MTN
Constitutional Court
Standard Bank Gallery
Sasol
Sasol University Museum, Stellenbosch
University of Johannesburg
Rand Merchant Bank
University of the North West
War Museum Bloemfontein
Ellerman House, Cape Town