PRESS RELEASE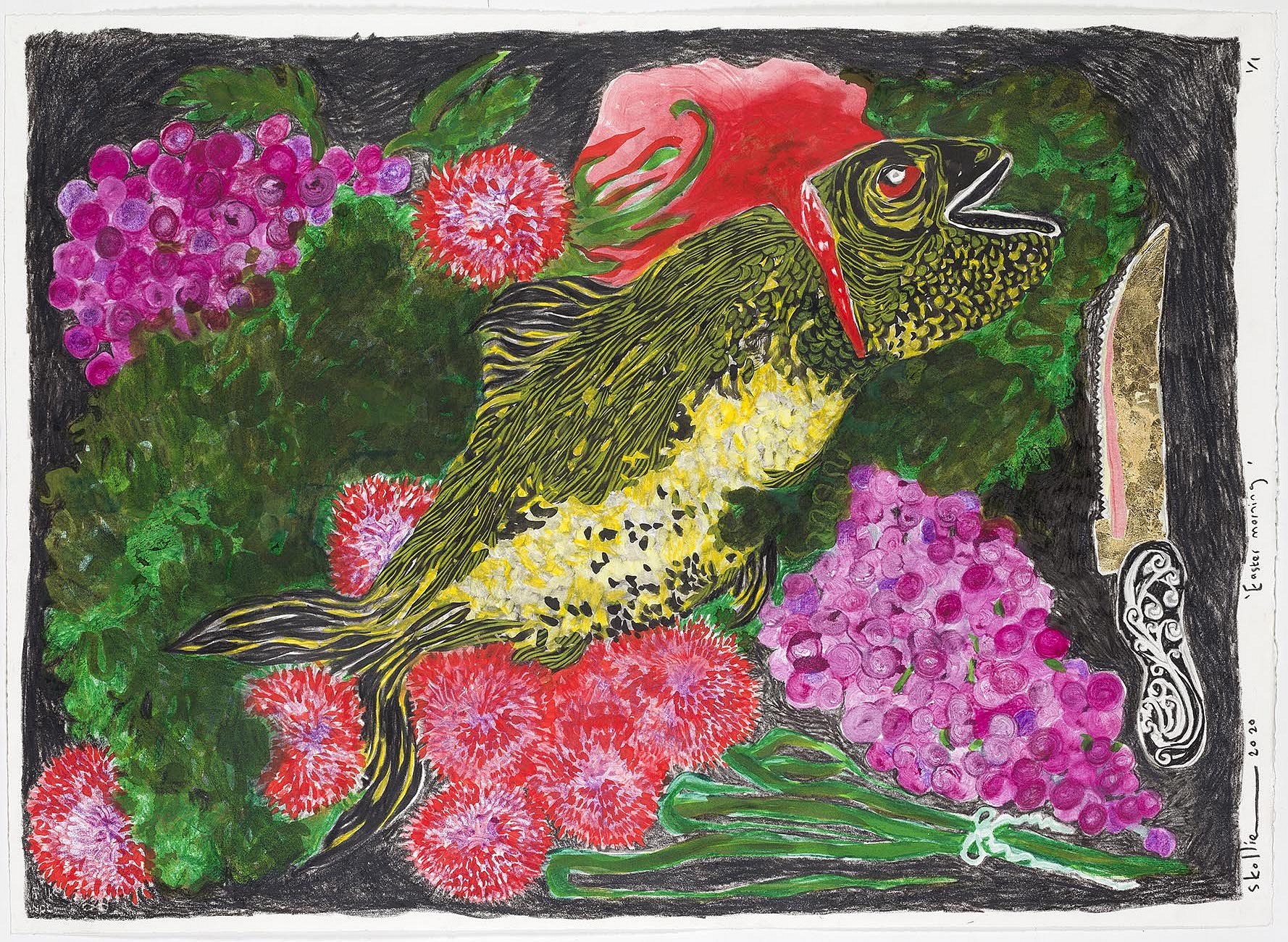 From The Archives
Apr 30 – Jul 31, 2020
Everard Read is proud to launch a multifaceted online programme that gives deserved attention to individual artists and their works. From The Archives, is an opportunity for the curatorial team to select and share works by our artists that have made a significant impression on the curators. Some of these pieces have been exhibited previously at Everard Read; some have been shown individually, some have travelled to art fairs and exhibitions around the world and some have never been seen before.

Each week, Everard Read will highlight one artist, and present either one or a selection of their works - making them available to purchase directly online. Weekly, a new collection From The Archives will be released - starting Tuesday, 28 April 2020.
FEATURING LADY SKOLLIE
Lady Skollie, otherwise known as Laura Windvogel, is an artist and activist based in Johannesburg, South Africa.
Filled with bold colour, god-like figures and suggestive fruits, Lady Skollie's ink, watercolour and crayon paintings revolve around themes of gender, sex and the politics of lust, consumption, as well as her musings on identity.
Skollie's work has been exhibited widely across South Africa, and at a number of international solo and group exhibitions and art fairs. In 2017, along with Tschabalala Self and Abe Odedina, the artist contributed artwork for the stage design of a gala performance of The Children's Monologues, a benefit held by the charitable organisation Dramatic Need, directed by Danny Boyle and held at Carnegie Hall in New York, NY, USA. She has been featured on BBC Africa and CNN International on African Voices, as well as on the BBC World Service's online and radio series, In the Studio. She was also included in the 2018 edition of OkayAfrica's 100 Women, an annual list which honours women across 10 different fields for their achievements and influence. She was recognised with the 2019 Mbokodo Award for Art and Design, which honours the pioneering spirit of South African women advancing the arts.
In 2019, Skollie was commissioned to design the new R5 coin to commemorate 25 years of constitutional democracy in South Africa.
FEATURING MICHAEL MACGARRY
Michael MacGarry is a visual artist and filmmaker based in Johannesburg, South Africa. MacGarry's practice is focused on researching narratives and histories of socio-economics, politics and objects within the context of Africa. The artist's political and poetic oeuvre is realised across a diverse range of media - including sculpture, photography, installation and film.

This featured work was included in MacGarry's 2018 exhibition, 'We are now, what you once were' at Everard Read's CIRCA Gallery. This work also forms part of MacGarry's continued 'Super Tomorrow' series which comprises of steel-reinforced concrete and found objects that function as pieces of corporeal architecture.
Through a process of grafting and repurposing of existing objects, the focus of this work is on cycles of production by third parties outside of the control of the artist. In this sense, this piece could be understood to be performative. An idea further alluded to in the nature of the guitar itself.

The reconfiguring and recontextualising of how these art objects function versus how the original object does not – aims to create new stories and new associations; Principally within the context of a critique of the suburban, masculine, and phallic enterprises that the original object (an electric guitar) could be understood to represent.

MacGarry's work has been exhibited and screened at major international institutions and fairs over the last decade - including the TATE Modern, Guggenheim Bilbao, VideoBrasil, Short Film Festival Oberhausen, International Film Festival Rotterdam, Clermont-Ferrand International Short Film Festival, Zeitz MOCAA and Rencontres de Bamako.
FEATURING PHILLEMON HLUNGWANI
Phillemon Hlungwani is, undeniably, one of the most accomplished contemporary artists now working in South Africa. Known predominantly for his large-scale charcoal drawings depicting scenes from rural life, as well as formal, and informal, settlements, his work is rooted deeply in a sense of community and the traditional values that endure there.

The scenes and the people he depicts are usually full of motion and life – the characters bursting with thoughts, opinions and yearnings, which are communicated further through the arcs and lines that weave the different parts of each drawing together.

In November 2019, National Geographic magazine released an issue titled 'Women: A Century of Change' that profiled women at different levels of their professional careers in various industries across the world. It shared stories of endurance told by these women, who are pioneering the work of breaking societal and patriarchal boundaries.

Hlungwani drew inspiration from this National Geographic magazine issue when conceptualizing and creating 'Milorho Ya Mina Yi Hundzuka Ntiyiso'. In this piece, Hlungwani created a portrait of his sister-in-law, whose journey echoes that of the women who are featured in the National Geographic magazine.

Growing up in Limpopo, a province that has for years suffered from widespread poverty and lack of access to educational facilities, she was always fascinated by aeroplanes. She faced seemingly-insurmountable challenges but developed her keen interest in aviation, her life's journey saw her furthering a career in this field.

This is a woman who the artist is immensely proud of and inspired by, sitting in her traditional XiTsonga dress and sharing a moment of joy with the artist, and you the viewer.