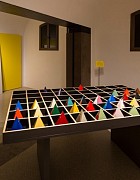 Liberty Battson - Trevelling Exhibition
January 28, 2020
Liberty Battson is currently participating in a travelling exhibition, entitled Don't Ask Me Where I Am From, in collaboration between the Aga Khan Museum in Toronto, Canada and the Imago Mundi foundation. This exhibition opened at Gallerie delle Prigioni, Treviso, Italy in December 2019 and will close on the 2nd of February 2020. It will then travel to Toronto in 2020, USA in 2021, Middle East from October 2020- March 2021 and Europe in 2022.

Don't Ask Me Where I'm From, curated by Marion Eele (Fondazione Imago Mundi) and Marianne Fenton (Aga Khan Museum) brings together the works of a group of artists who are first, second, and third-generation immigrants, selected by a committee of curators, museum directors and artists. With the complexity of their first-hand knowledge, these artists engage with the personal and collective migrant experience, willing and able to express entirely new cultural convergences.

Battson's work, The Power of Perception, is an installation of prisms that demands hands-on engagement from the viewer. The composition and final outcome are dependent on the audience, who choose to interact with the work according to a very particular set of open-ended instructions provided by the artist. For more information click here.
Back to News